Campus Beautification - Utility Art Project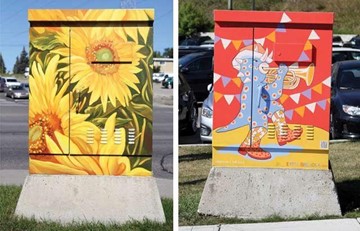 Utility Art Project
Cal Poly is spearheading an effort to beautify the campus through the painting of utility infrastructure such as utility boxes and similar infrastructure into canvases for works of public art in order to enhance the vibrancy of campus, showcase local talent, and deter graffiti. The Utility Art Project will provide an opportunity to introduce themes to campus, create a sense of place and identity, and inspire thought and conversation. It will also be a chance to showcase the University's artistic talent and encourage the Cal Poly community to engage with their surroundings. The Utility Art Project is a fun and unique opportunity for Cal Poly students and faculty to add their creative touches to the campus landscape.
Sizes will vary depending on the selected feature. Generally, large utility boxes are [5'5" H X 2' 0" W x 2' D], and small utility boxes are [3'H X 2'2" W x 1'6" D]. Art should cover all exposed sides including the top. Selected artists must be willing to adjust designs to the utility assigned.
Utility boxes will be cleaned and primed prior to the first day of painting. Painting is scheduled to occur Winter Quarter 2022. All selected artists must be available to paint during this time. Upon completion, each box will be sealed with a UV anti-graffiti clear coat sealant
Utility Art Box Potential Installation Sites and Photos
---
ARTIST ELIGIBILITY
The competition shall be open to individual students, faculty and staff, or "teams" of students or faculty with a designated lead artist who have the skills and artistic vision required to complete the project to the highest degree of creative display and artistic expertise. Qualifying applicants must be currently enrolled or actively employed by Cal Poly at the time of application. Applicants should carefully review this RFQ to determine if they have the necessary skills, experience, and creative vision to complete the project.
---
MEDIA AND MATERIALS GUIDELINES
Artwork must be original and may not contain advertising, religious art, sexual, violent, or related content, negative imagery, drug use, culturally offensive imagery, political partisanship or any prohibited CSU activities (see http://www.catalog.calpoly.edu/universitypolicies/ for details).
Artists must use the following materials for the Utility Art Paint Project: FMD will provide two gallons of white base paint and a $250 Amazon Gift Card. All other materials to be provided by the artist.
---
SELECTION PROCESS AND CRITERIA
Applications submitted in response to this Call-for-Artists will be reviewed by the Facilities Planning and Capital Projects
Department (FPCP) and a selection committee (Art Jury) consisting of campus stakeholders including, but not limited to; faculty and students. The Art Jury will review all complete, eligible applications received by the deadline. If the number of qualifying applications does not meet the number needed; FPCP may decide to reopen the selection process.
Criteria used to select artists will be:
Evaluation of artistic proficiency and creative innovation
Appropriateness of scale, form, material, content, and design
Relevancy to theme and campus location
Contribution to campus character and vibrancy
The University reserves the right to refuse all entries. Selected artwork must meet the California Polytechnic Design Guidelines and receive final approval by the Senior Vice President of Administration and Finance.
TENTATIVE SCHEDULE
October – November 2021 Call-for-Artists Release/ Advertise Public Art Projects
November 29 Application Deadline
November 30 Dec 10 - Art Jury Review & Selection
Dec 13 Artist Selection Announce
APPLICATION PROCESS
TO APPLY:
California Polytechnic State University encourages the use of tree-free products; therefore, submissions must be submitted electronically in the following way;
Electronically via email facilities-cbs@calpoly.edu in pdf format.

The subject line should read: "Firstname_Lastname_UTILITY ART PROJECT.pdf"
Please do not provide any materials not specifically requested (I.e. photographs, DVD/video, articles). If sent, they will not be reviewed by the selection panel.
Calpoly Art Box Application
APPLICATION MATERIALS
Artists must submit the following materials in order to be considered for review:
1. Application listing artist name, contact information of artist/artist team and all information requested.
2.Portfolio: Up to five (5) images of artwork that shows artist's ability to complete this project. Five image maximum is per application, not per team member if submitted as a group. Images can be submitted in one of the following formats:

a. Provide a PDF or,
b. Provide a PowerPoint File – One image per slide; in the notes section of each slide please include: artist's name, title and/or location or work, medium, date work completed and dimensions.

3. Conceptual Rendering(s) Each applicant can submit up to 3 conceptual renderings of preferred box location (see map). Renderings must be in full color and depict the finished artwork as accurately as possible. Renderings must be submitted as an image file (.jpg,.tiff, pdf.).



SUBMISSION AND DEADLINE

All application materials, for phase 1, must be received no later than 5:00 p.m. November 29. 2021.

Incomplete or late submittals may not be considered for initial phase of project.




Questions?

Facilities Management & Development Help Center
facilities-cbs@calpoly.edu
805-756-5555