Science and Agriculture Teaching and Research Complex (SATRC)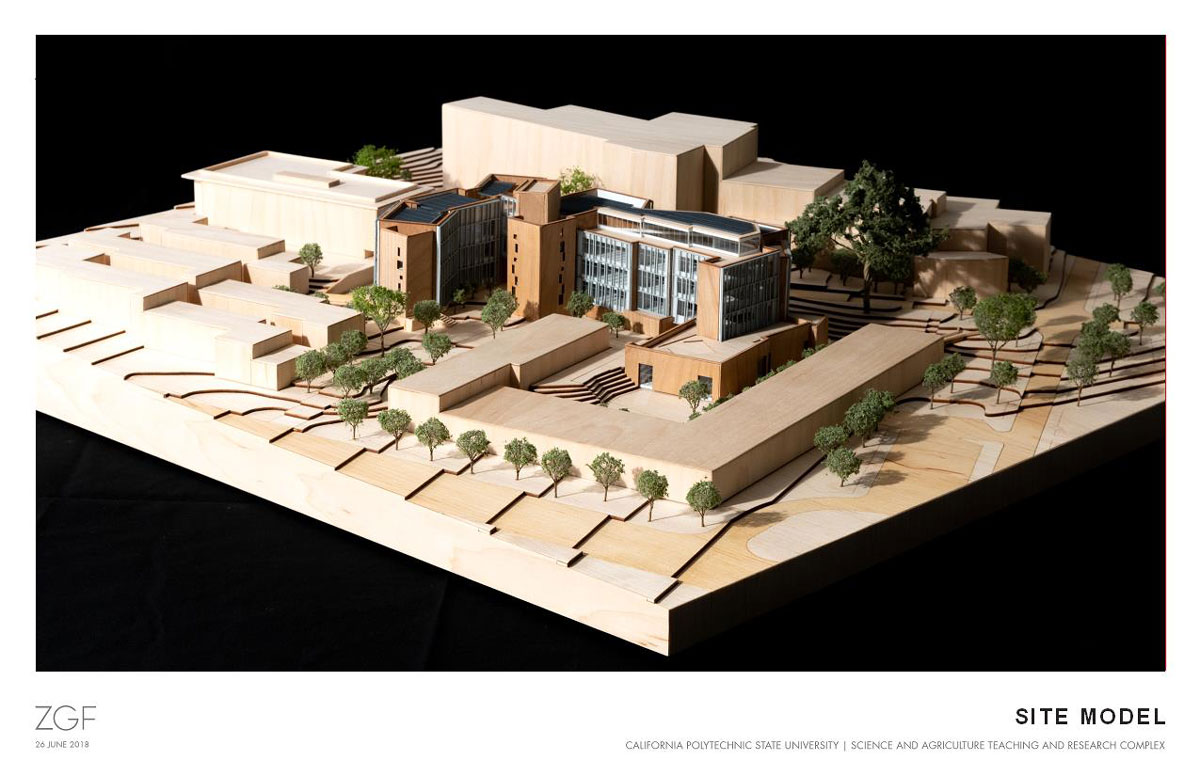 Cal Poly San Luis Obispo plans to build a new facility at the center of campus, nestled just north of the Baker Center for Science and next to existing Agricultural, Science and Liberal Arts buildings.
This new facility will bring three different colleges together under one roof: the College of Science and Mathematics (CSM), the College of Agriculture, Food and Environmental Sciences (CAFES) and the College of Liberal Arts (CLA).
This new Science and Agriculture Teaching and Research Complex (SATRC) will support the educational priorities of a growing Cal Poly student and faculty population, promote interdisciplinary communities and will also provide research for undergraduate students and academic space. Plans include student collaboration areas, faculty and staff offices, shared conference and seminar rooms, and a mix of large to medium sized lecture halls and classroom spaces. Additionally the building will include larger scale teaching spaces for use by the general university population.
The vision set forth for this project by Cal Poly's leadership is to create a building that will demonstrate Cal Poly's excellence in faculty mentored student research, its robust embrace of interdisciplinary endeavors, and put on full display the ownership of its motto, 'Learn by Doing' at a highly visible and trafficked campus crossroads.
Where is it Going?
The image below details the planned footprint of the new building.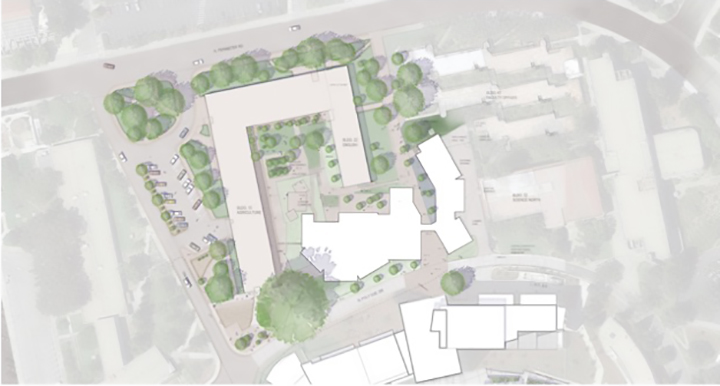 What's Next?
Facilities Management & Development (FMD) is scheduled to break ground on this project May 2019. Staff, faculty, and students who work or attend classes near the construction site can anticipate the presence of fencing, work trucks and personnel, construction related noises and activity, and some restricted access to the neighboring buildings. Although some disruption is unavoidable, every effort will be taken to minimize disruption to classes and work.
Beginning in the Spring Quarter FMD representatives will be available to meet with faculty and students to answer any questions about the construction and explain detour paths. Faculty may contact the Facilities Help Center at 1-805-756-5555 or facilities-cbs@calpoly.edu to request a representative to come and speak with their class.
Follow us on Inside CalPoly Instagram, Facebook, and Twitter and check this page for periodic updates.
Questions?
Facilities Management & Development
Help Center
1-805-756-5555
facilities-cbs@calpoly.edu