The 2017/18 Green Campus Team
Benjamin Christensen, Environmental Mgmt. '18- Team Manager
My name is Ben Christensen and I am a fourth year Environmental Management Major. I was born and raised in the arid forests of Sandia Park, New Mexico and love exploring the natural world. I have determined that the best way I can positively paint my small corner of our future is to voraciously search for a solution to climate change. I have pursued this through research on hydrogen fuel cells at the National Labs, volunteering in SLO, fostering outdoor stewardship as a Poly Escapes Trip Leader, and now with the Green Campus Team. I am excited to explore population behaviors regarding climate change at Cal Poly, and to be a part of all the ongoing sustainability efforts. In my free time I play as much soccer as I can, backpack, ski, cook, and paint landscapes.
Adriana Long, Environmental Sci. '19
Adriana is a third year Environmental Earth & Soil Sciences major and is the team's Graphic Artist. She grew up in Escondido, California then moved to a small town in Mexico for a couple years during elementary school. Now her family lives in Chico, California, and are the ones who inspired her to harness her passion for the environment in creative ways. Now she enjoys backpacking, rock climbing, and sharing her sense of outdoor adventure with others. She wishes to spread environmental awareness and help establish a stronger connection between people and the earth throughout her lifetime.
Rodrigo Rico, Business Administration '19
Rodrigo is from Sonoma, CA. He moved to the Wine Country five years ago from El Salvador. He is a third year pursuing a degree in Business Administration, and, joined Green Campus to gain invaluable knowledge in sustainability and the environment through a learn-by-doing experience. After he graduates he plans on pursuing a career path in which he will be able to create and implement more sustainable and environmental-friendly styles of living in the Global South.
Darin Son, Environmental Eng. '19
A new addition to the Green Campus team, Darin is a third year Environmental Engineering student. Born in Thailand and raised in South Korea, she now lives in Irvine, CA with her family. Through the Green Campus team, Darin hopes to gain hands-on experience in providing people opportunities to integrate sustainable habits into their lifestyles. Ultimately, she aspires to work in mitigating city impacts on the environment. During her free time, Darin enjoys reading, traveling and relaxing on the beach with her friends.
Daniel Sandborne, Chemistry. '20
Daniel is a Chemistry major and Environmental Studies minor at Cal Poly. He was born and raised in South Lake Tahoe, California, where he learned to live with and appreciate the natural world. He aims to build upon his experiences at home in the Sierra Nevadas and explore the intersections of human activity and the environment from a scientific perspective in a career as an environmental research chemist. Daniel is a passionate advocate of sustainable practices in all aspects of life, and hopes to work toward a more environmentally friendly future for everybody through his work with Green Campus. Daniel enjoys a multitude of pastimes, including running, biking, alpine and nordic skiing, hiking, and archery, all of which allow him to expand his experience of the outdoors with friends.
Supervising Team
Dennis Elliot, Director of Energy, Utilities, and Sustainability
Dennis is the campus Sustainability Manager in Facility Services. Apart from managing the University's energy, utilities, and sustainability efforts, Dennis enjoys working as the Green Campus staff advisor, and helping students with energy information for various class and senior projects. Dennis is a Cal Poly alum (ME '93) and teaches HVAC design part time in the Mechanical Engineering Department. Outside of work, Dennis is an avid golfer, drummer, motorcyclist, and loves traveling and camping.
Eric Veium, Program Analyst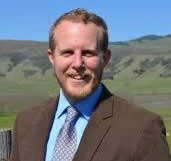 Eric graduated from Cal Poly in 2008 with a degree in Industrial Engineering. He was honored with an Outstanding Graduating Senior Award for Contributions to the University. Prior to graduating, Eric was actively involved in campus sustainability efforts through the Empower Poly Coalition, as President of Cal Poly Biodiesel, and as founding member of the Green Campus Program. Eric has been involved in the energy sector for over 7 years. Eric is President of San Luis Obispo's local chapter of the Association of Energy Engineers and is a leadership team member of SLO Clean Energy, an all volunteer community group committed to creating a Clean Energy Economy in San Luis Obispo County.
Kylee Singh, Sustainability Coordinator
Kylee is a Cal Poly graduate with her Masters in Public Policy (MPP '13). Prior to recieving her masters she studied Environmental Science at Humboldt State University (HSU), where she was actively involved in the Take Back the Tap campaign. Working with the Take Back the Tap team, Kylee began to develop her skills as a community organizer and saw her first big victory when HSU became the first public university in the nation to ban bottled water sales on campus. She has a passion for living a sustainable lifestyle and being active outdoors and looks forward to applying her passion and community organizing expertise to her work at Cal Poly.
Colleen Trostle, Sustainability Volunteer Coordinator
Colleen joined the Cal Poly Sustainability Supervising Team as an AmeriCorps Service Member. She graduated in 2014 with a BS in Biology with a focus in Ecology and Conservation, and a teaching certification in Secondary Biology. Prior to her service term, she spent 2.5 years at Pacific Northwest National Laboratory's Marine Science Lab where she focused on eelgrass monitoring and restoration in Puget Sound, juvenile salmon habitat monitoring on the Lower Columbia River, environmental toxicology, and environmental monitoring around marine renewable energies. In addition to Colleen's exposure to ecosystems research and education, her recreational enjoyment and respect for the outdoors has fostered an environmental ethic and awareness of responsible citizenship. Colleen is excited to be a part of the Cal Poly team and eager to apply her knowledge and abilities to building a sustainable future for the campus and Cal Poly community.
Related Content