Cal Poly Health and Resource Fair
Date: Thursday, Sept. 26, 2019
Time: 10 a.m. – 2 p.m.
Location: Chumash Auditorium
No registration required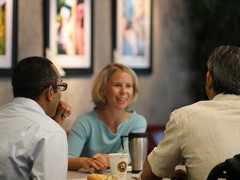 For the first time the Campus Resource Fair and the Health and Wellness Fair are joining forces to bring representative from more than 80 on and off campus service providers to Cal Poly. The new Health & Resource Fair will give you the opportunity to talk with health care and insurance providers, community organizations, and clubs to get personalized support, gather reference materials, and so much more.
The Health & Resource Fair is sponsored by Human Resources, Employee and Organization Development, and the Center for Teaching, Learning and Technology.
Registration is not required. If you have any questions please contact Human Resources at benefits@calpoly.edu or 805-756-2236.
Among the service providers available to you will be:
Cal Poly
Cal Poly Arts
Cal Poly Campus Health and Wellbeing
Cal Poly Corporation Campus Dining
Cal Poly Parking and Transportation Svcs
Career Services
Center for Teaching and Learning Technology
Collective Bargaining Representatives
Department of Emergency Management
Employee and Organization Development
Environmental Health and Safety
Facilities Services
Faculty Staff Associations
Human Resources Benefits
ITS
Mustangs United
Office of the Registrar
Payroll Services
Safer
University Housing
Employee Benefits
Blue Shield of California
Coastal Communities Physician Network
Delta Dental
Empathia Employee Assistance Program
Fidelity Investments
Golden1 Credit Union
Kennedy Club Fitness
MetLaw
Optum Rx
Savings Plus
Scholarshare
Standard
VSP
Community
Acupuncture SLO
Avila Bay Athletic Club
CSMomFit
CA Fresh Wellness Center