Poly Travel
Poly Travel is a managed travel program powered by Concur. It provides faculty and staff an easy way to efficiently arrange travel as well as complete and approve expense reports whether on the road or on campus. This program not only allows travelers to receive assistance while on the road but also simplifies the reimbursement process by reducing reconciliation burdens and improper payments with centrally billed procurement and travel cards.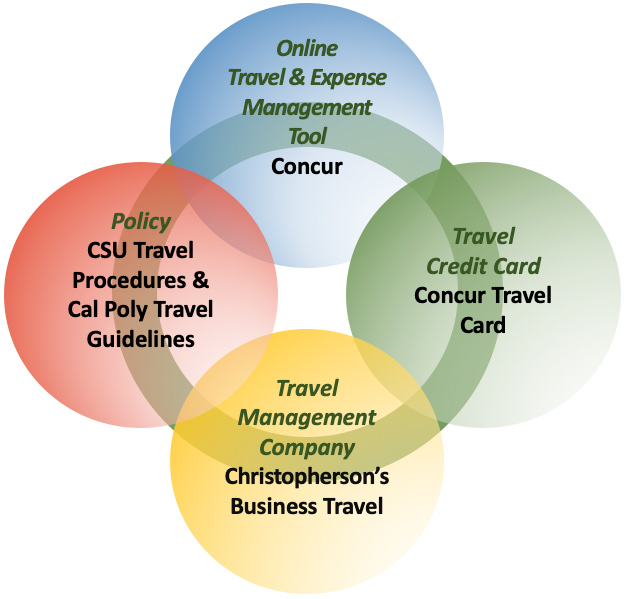 Poly Travel is made up of 4 major components:
The Concur Tool, an efficient web and mobile tool managing travel and expenses anytime and anywhere.
A Concur Travel Card which conveniently pays travel vendors directly and feeds charges right into the expense tool for ease of expensing travel charges
Christopherson's Business Travel, a new travel management company supporting both individual and group travel through Concur and/or phone
Updated Travel Policy guiding travelers and their managers through the process and compliance
Poly Travel Roll Out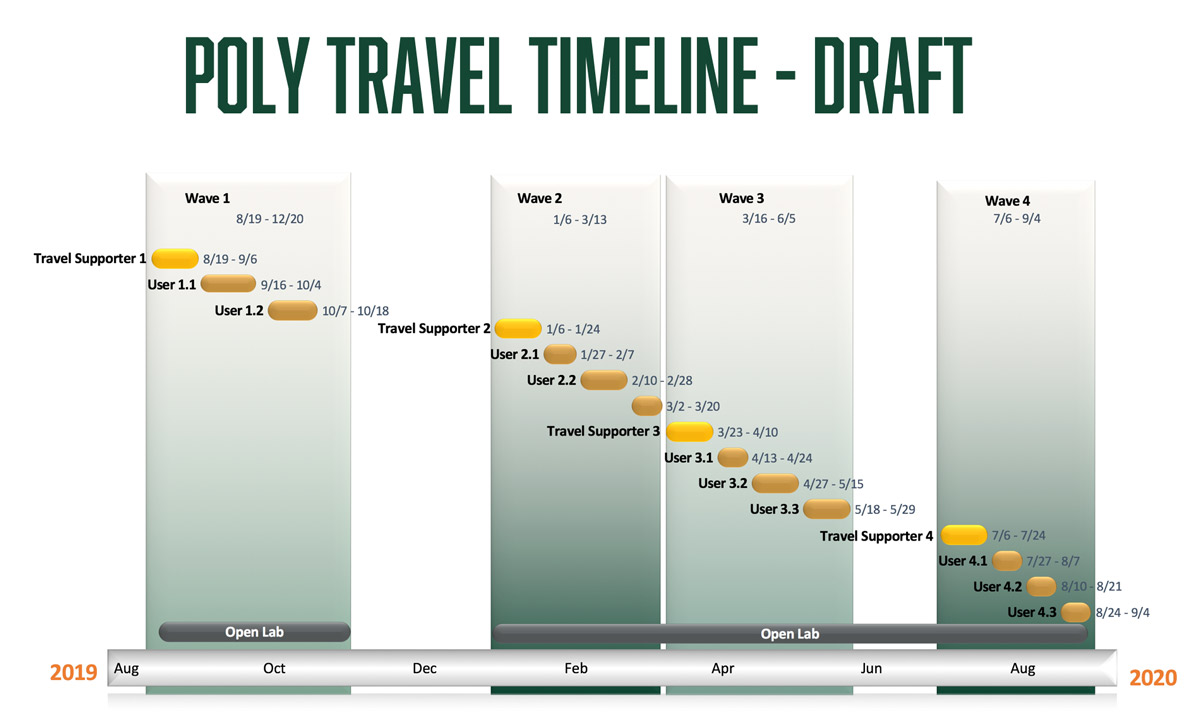 WAVE 1
1.1
1.2
9/16 - 10/4
10/7 - 10/18

ANTS
Strategic Business Services
Financial Services
International Center
Office of the Provost

A&F Office of the VP
Facilities Management & Development
Public Safety
Human Services
WAVE 2
2.1
2.2
2.3
1/27 - 2/7
2/10 - 2/28
3/2 - 3/20

College of Science & Mathematics
Performing Arts Center
University Development
Campus Health & Wellbeing
Information Technology Services

College of Agriculture, Food & Environmental Sciences

Orfalea College of Business
University Housing
Office of Equal Opportunity
International Graduate & Extended Education
WAVE 3
3.1
3.2
3.3
4/13 - 4/24
4/27 - 5/15
5/18 - 5/29

College of Architecture & Environmental Design
Academic Personnel
Disability Resource Center
Systems & Resources
New Student & Transition Program

College of Liberal Arts
Career Services
Parent & Family Programs
Research & Economic Development
Institutional Research
University Advising
Office of the Registrar
Admissions/Recruitment/Financial Aid
University Marketing
WAVE 4
4.1
4.2
4.3
7/27 - 8/7
8/10 - 8/21
8/24 - 9/4

Library
Student Academic Services
Dean of Students

Commencement
Academic Programs & Planning
Athletics Intercollegiate

President's Office
Center for Teaching, Learning & Technology
Student Affairs Office of the VP
University Legal Counsel
Concur Overview
Concur allows you to request, book, and expense travel all in one tool.
3 Modules:

Request

,

Travel

,

Expense Report

An

approved Request

is the key to a simplified and satisfactory experience; it will allow you to…

book your trip in

Travel

so you can book and reserve air, car, and/or hotel
submit an Expense Report (claim your travel)

Concur Approval Flow
Concur has a two-approver process; three for banned state and/or international travel
Based on…
1. Cost Object Approver
Budget & chartfield string review
2. Manager
Business need & policy review
3. Exception Approver
Banned state and/or International travel only
Approval for a(n)
Time in Queue
If no action from approver, the system will
Time in Queue
If no action from approver, the system will
Time in Queue
If no action from approver, the system will
Request
6 days
Automatically approve and it moves to HR manager
6 days
Automatically move to the next in-line manager
6 days
Automatically move to the next in-line manager
Expense
10 days
Automatically approve and it moves to HR manager
10 days
Automatically move to the next in-line manager
Poly Travel
Poly Travel empowers the user to manage their travel anytime, anywhere
There are 4 roles in Concur:
| User | Role | Example |
| --- | --- | --- |
| 1. Traveler | person traveling | Faculty or Staff |
| 2. Approver/ Manager | person approving budget and/or time away from work | Dept. Heads or Chairs, Managers, Deans, AVPs, etc. |
| 3. Arranger | person booking Travel on behalf of Managers (could be same person as Delegate or other | Admins, Budget Analysts/Manager, Coordinators |
| 4. Delegate | person preparing, approving, and/or previewing Request and Expense on behalf of Managers | Admins, Budget Analysts/Manager, Coordinators |
Concur Service Status Dashboard
Up-to-the-minute service availability and performance information
Guides and Tutorials
Traveler
Set Profile
Request
Book Travel
Expense Report
Mobile App
Approver Manager
Approving Guides
Set Up Delegates
Delegate (person acting on behalf of someone else)
Traveler Supporter Tool Kit