Who Should Submit a Request
Determine if an Alcohol Service Request form is required per Campus Administrative Policy CAP 172.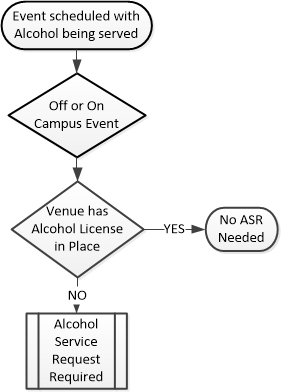 When scheduling an on or off campus event, with alcohol being served, verify if the venue has a license to serve alcohol. If the venue does not have an alcohol license in place, an Alcohol Service Request is required.
Per CAP 172.5.2.1, Students' events are not allowed to serve or sell alcohol on campus. Thus, University events, meetings and activities that are student club and/or student managed are not considered University events under this definition, unless they are under the direction and control of a University host and have an approved permit.
ASI staff, CPC staff, and State staff and faculty are able to fill out the form. Others must contact University Catering for assistance.