Cal Poly Sustainability Awards
The Cal Poly Sustainability Awards honor members of the Cal Poly community who have exhibited commitment to the value of our sustainability goals. The awards are an opportunity to recognize and celebrate individual members from the faculty, staff, and student communities as well as contributions from recognized campus organizations.
2023 Award Recipients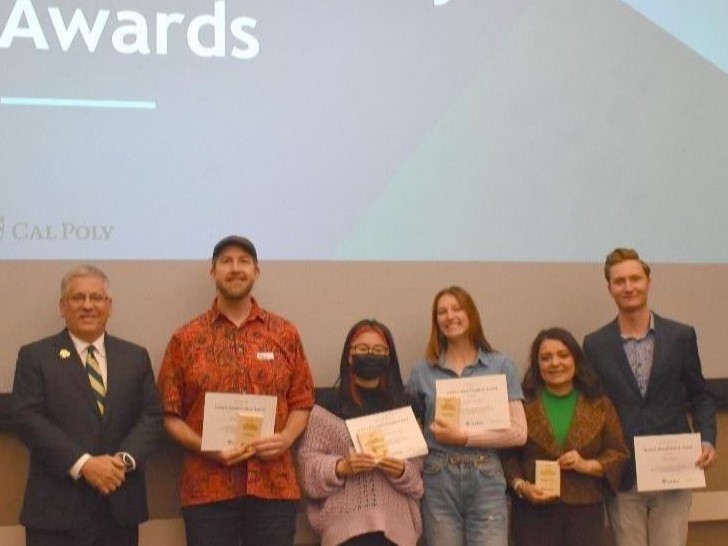 Sustainability Organization
Winner: Sustainable Fashion Club
Nominated by club member Lenaya-Aiden Gonzales, Sustainable Fashion Club promotes education, artistry, and community through sustainability in fashion. They do this by holding informational meetings, promoting second-hand "slow" fashion, and working with local businesses to host sustainable events. Sustainable Fashion Club focuses on the disproportional impacts of the fast fashion industry on underrepresented communities. They promote not only the sustainability of individual consumption but of society as a whole. On campus, they host an ongoing, monthly "Swap and Shop" event in collaboration with Green Campus. The event has served to promote sustainable clothing choices by swapping unused clothes for new pieces and shopping from local, student-run small businesses.
Staff Sustainability Champion
Winner: Marlene Cramer
Nominated by Takuto Doshiro, Marlene is the Director, Transportation & Parking Services (TAPS). On top of managing sustainable and alternative transportation methods within TAPS, Marlene has taken the initiative to become an accredited US Green Building Council LEED Green Associate and apply her understanding of green building and development to parking and transportation programming.
She is a driving member of the Campus Transportation Demand Management Study and supporting the Cal Poly Climate Action Plan update as it applies to greenhouse gas reductions from transportation. She is also an active user of alternative transportation programs- utilizing the vanpool for much of her commute to work and has worked to transform the TAPS building by stocking it with reusable dishware, sustainable appliances, and eco office supplies. As Takuto stated in his nomination, Marlene, "Talks the talk and walks the walk!"
Student Sustainability Champion
Winners: Kalea Conrad and Allie Mortensen
Kalea Conrad, nominated by Hope Springer, is a graduate student in the Environmental Science and Management program and a current Team Leader for Green Campus. Kalea works tirelessly to further sustainability efforts on Cal Poly's campus by working to reduce campus waste streams and create a "circular economy." Kalea has helped facilitate a free item pickup day with the Cal Poly Surplus department, serving hundreds of community members and saving perfectly usable items from going to landfill. She is also working with campus dining to identify compostable to go box options, various stakeholders to create a permanent reuse station on campus, and to expand the graduation gown reuse program. Kalea was also a partner in developing the Sustainable Living.edu training that will roll out to all Cal Poly students in the fall. The training covers waste management, water, energy, and transportation. For many incoming students, this training will serve as their introduction to sustainability at Cal Poly. As Hope states, "Kalea always has something positive to contribute to classroom discussions and works hard to share her passions with others."
Allie Mortensen, also nominated by Hope Springer, is a former Eco Rep and current Green Campus team member and a third year Natural Resources and Environmental Science student. In overseeing the Eco Reps x Sustainability Roundtables (ERSR), Allie has worked hard to write agendas for, and plan weekly meetings. Additionally, Allie organizes guest speakers for the roundtable group. This past years meetings have included individuals from the Land Conservancy of SLO, the Chumash Heritage National Marine Sanctuary, and Resilient SLO. With these guest speakers, the group has been able to facilitate discussion around important topics like environmental justice, eco-anxiety, collective community action, climate action planning, and more. As Hope states, "Allie consistently showed up to every meeting and always had something of substance to add to the group. She brought an air of excitement and passion to the meetings, along with questions for how she could get involved and make impact."
Honorable Mention: Niles Werts
Nominated by the Chair of the Swanton Pacific Ranch Advisory Committee Walter Ruzzo, Professors Matt Ritter, Carmen Trudell, alumni Jack Ortega and three fellow students, Nile's seven separate nominations illustrated how impactful his project to build a sustainable and mobile storage shed was at Swanton Pacific Ranch. While Niles impact did not quite fit the criteria for this specific award, the sustainable storage shed project demonstrated an exceptional commitment to sustainable design and planning while also modeling a true learn by doing project on Cal Poly lands.
Faculty Sustainability Champion
Winner: Erin Pearse
Nominated by Professor Jonathan Reich and community member June Cochran, Professor Pearse teaches math, but he does so much more - for Cal Poly, the community, and the planet! His brief autobiographical statement on the Cal Poly website illustrates his passion for both math and for the environment. He states, "When I'm not working on mathematics, I work on the climate crisis." His degrees in both philosophy and mathematics provides him with great insight to the complicated metrics of environmental science.
Erin Pearse consistently engages his students in taking climate action by inviting them to sustainable events and meetings and discussing sustainability practices before and after classes. His t-shirts are walking thought-provoking billboards for sustainability. He is also gifted at activating other faculty members, staff, and students to explore climate solutions and promote a sustainable campus.
Erin is Co-founder and Director of the Initiative for Climate Leadership and Resilience (ICLR) at Cal Poly. This organization trains the next generation of climate leaders, increases regional resilience on the Central Coast, and makes Cal Poly a recognized climate leader in higher education. It does this by facilitating collaboration among donors, industry partners, various campus departments, and the San Luis Obispo community to create a future workforce that can produce climate solutions.
Under Erin's leadership, the ICLR has organized two Climate Solutions Now Conferences that connect faculty, government employees, industry professionals, entrepreneurs, and students to showcase current and future solutions to climate and sustainability challenges. The second annual event was held in October 2022. It featured 64 speakers on a wide variety of climate topics and had hundreds of attendees.
Erin was instrumental in bringing the College Corps Fellows program to San Luis Obispo in 2022 through an $8 million grant. Many of the College Corp Fellows are working with sustainability-focused programs on the Central Coast. Each of these Fellows is providing 450 hours of service to nonprofits and government agencies. They are accomplishing an incredible amount of sustainability work, reaching out to the most vulnerable communities, and learning to be climate leaders.
In the SLO community, Erin interweaves the work he does at Cal Poly with other organizations as an advocate, advisor, activist, and researcher - working for a sustainable, just, and resilient economy in the region. He is on the Leadership Team of the SLO Climate Coalition (SLOCC), is a co-founder of the Climate Justice Coalition, and works with the Central Coast Climate Collaborative and the Economic Recovery Initiative. A climate leader to the core, Erin has positively impacted thousands of people's lives and the health of our planet.
2022 Award Recipients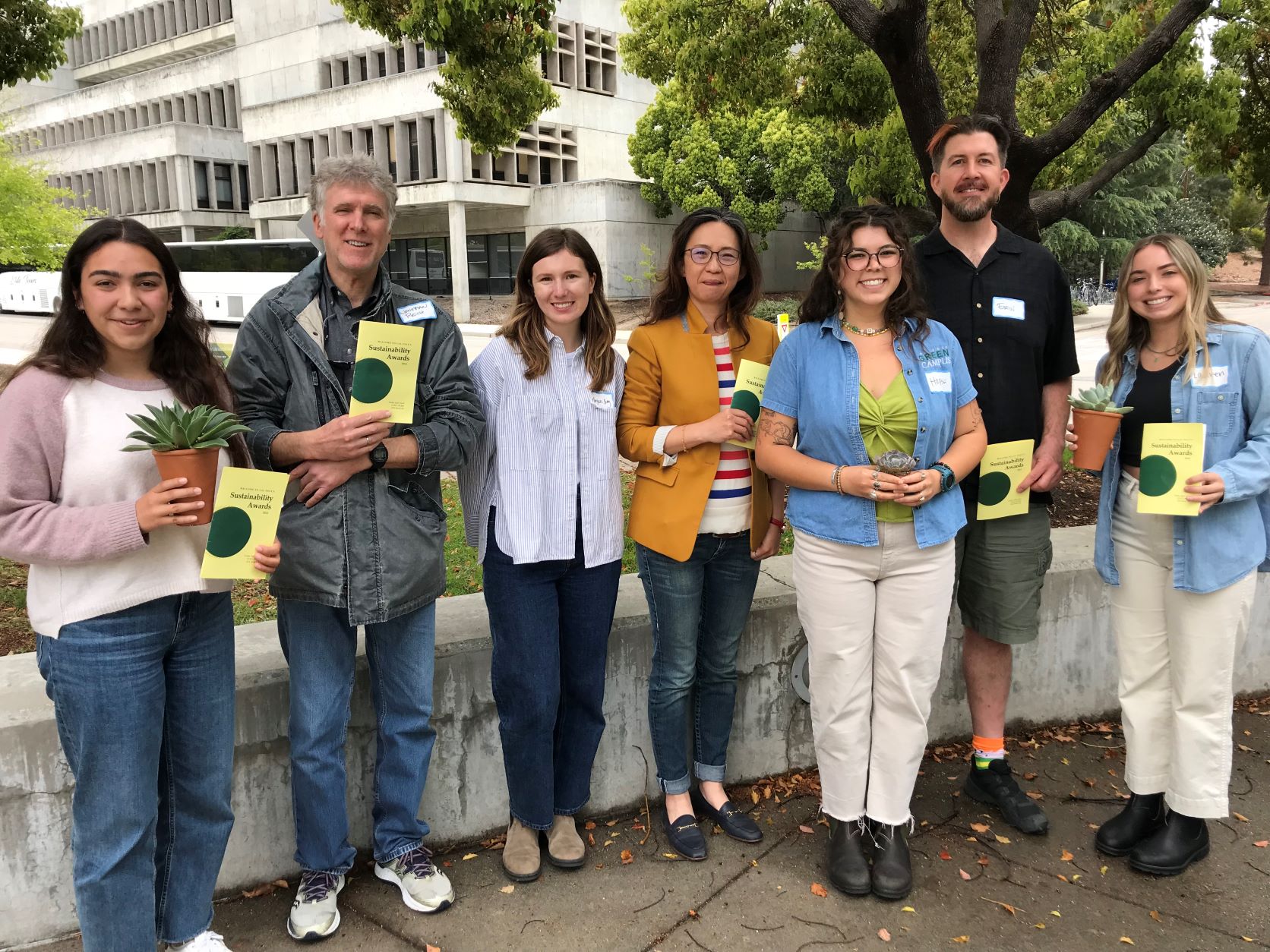 Sustainability Organization
Winner: Eco Reps
Nominated by Fiona Reyes, Eco Reps supports the work of the Cal Poly Green Campus Team through educational programs and fosters community among students of a variety of educational backgrounds that are interested in environmental sustainability. Eco Reps supports the Green Campus team during Sustainability Month, the Annual Conservation and Diversion Challenge, and Earth Week by creating and hosting sustainability education programs. Most frequently, these programs include an informative presentation on topics focused on living sustainably paired with an interactive activity such as a game. The Eco Reps club is really shaped by the members' interests and passions and allows for students to become leaders and advocates for the environment.
Honorable Mention: Surfrider
Staff Sustainability Champion
Winner: Morgan Bing
Nominated by Kylee Singh for her work to revamp the Green Offices program. Morgan researched various other programs across the nation and then took the best parts she could find to make a Cal Poly certification. To perfect the program she even tested it in her office, the Animal Science department office, and made sure the program was SMART. Since the end of her internship, Morgan has continues to stay engaged in sustainability efforts and even decided to take on recertifying the animal science office again now that her and her co-workers have made some improvements. Morgan is a sustainability champ for our campus and we hope she will continue inspiring more people across campus!
Student Sustainability Champion
Winner: Lauren Londoño
Nominated by Max Callan, Lauren has been a leader in sustainability efforts both on campus and within the community. Since taking over the President position of the Surfrider club in June 2020, Lauren has engaged her club members in a variety of efforts from education and awareness on campus, running a beach cleanup series, overseen their leadership team of 13 individuals, managed a partnership with our San Luis Obispo Chapter's Blue Water Task Force water quality monitoring program, and has run the club's annual Make Waves Film Festival. Post-COVID, it was extremely challenging to rebuild a leadership team, since most members of core team had graduated or moved on from the club. In Fall quarter 2021, Lauren worked diligently to rebuild the club, recreating a new core team of 30 students. By the end of the quarter, the club was back up and running, and they were able to begin doing events and meetings again. Furthermore, Lauren also serves on Surfrider's national Student Club Leadership Council, which is comprised of 14 of our most accomplished student club leaders, and whose role is to help strengthen Surfrider's engagement of the next generation of coastal defenders. Lauren is also a member of the Green Campus Team at Cal Poly, where she collaborates with five other team members along with Facilities, Energy, and Sustainability Department to help Cal Poly reach campus and CSU goals for sustainability. She helps lead Eco Reps, a student team dedicated to educating the community about sustainability through workshops, events, outreach, and Green Living Certifications. Lastly, Lauren has been the chair of Cal Poly Bee Campus Club and wrote a grant from the IRA Green Fund last school year to ensure that Cal Poly was a Pollinator friendly campus.
Honorable Mention: Hope Springer
Faculty Sustainability Champion
Winner: Yiwen Chui
Nominated by Xiaowei Cai, Dr. Chiu's specialty is highly related to the theories of sustainability sciences and practice of sustainability. She teaches "Environmental Life-cycle Analysis" and "Systems Thinking in Environmental Management". In her classes, students learn the positive and negative feedbacks in a system pursuing sustainability. This is an urgent need for developing such competence to understand why often time we are shifting environmental problems rather than solving them. This course has a profound impact on understanding unexpected consequences associated with policies and actions originated with a good intention. Overall, unlike many qualitative courses discussing sustainability, Dr. Chiu's teaching focuses on offering students real tools to derive quantitative baselines for initiating meaningful discussions on achieving sustainability goals. Dr. Chiu also developed a study abroad program in Taiwan specifically for the learning and teaching of sustainability. This was the first Cal Poly international program that addresses sustainability issues in Cal Poly's history. During the challenging time in COVID pandemic, she transformed "Systems Thinking in Environmental Management" into a collaborative online international learning (COIL) course by inviting faculty and students from Taiwan to solve real-world sustainability issues. This was also the first COIL course at Cal Poly focusing on sustainability. Dr. Chiu, with no doubt, is one of the few faculty who actually took advantage of the pandemic to successfully continue the international education in sustainability. These activities enable students to rethink sustainability from a much broader scope that can hardly be implemented in a normal class setting. Lastly, Dr. Chiu has been working with many faculty members to assess Cal Poly's sustainability learning outcomes voluntarily. This part of effort has been published in multiple peer-review journal articles, which provides detailed insights to enhance our sustainability curriculum.
Honorable Mentions: Jonathan Reich, Erin Pearse
2019 Award Recipients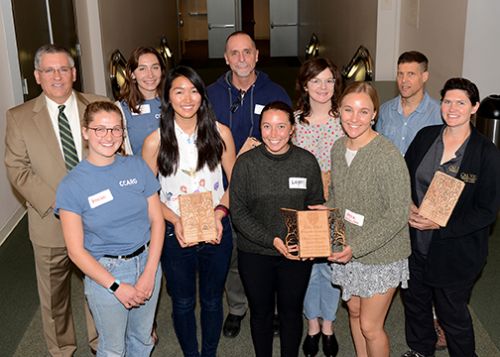 Sustainability Organization
Winner: Climate Change Action Research Group
Nominated by David Braun for the groups work to support sustainability through their impressive research projects, their projects strive to engage the campus and community in efforts to promote sustainability on campus, they welcome active groups of students each year to further their sustainability projects, and the group conducts work that is collaborative and mindful of sustainability. Last year, the California Higher Education Sustainability Conference (CHESC) recognized the group with a best practice award in the category of Student Sustainability Leadership for their research into multiple sustainability topics. The group collaborates with several campus organizations and faculty members, often providing the leadership to move research projects ahead in a truly impressive manner. As a faculty member who has interacted with the group somewhat, Braun find their efforts energetic, professional, smart, and extremely effective.
Honorable Mention: Sustainable Environments Minor
Staff Sustainability Champion
Winners: Cindy Lowe and Erin Foote
Cindy Lowe was nominated by Anastasia Nicole for her work to minimize waste at every building on campus, working with building technicians, custodial staff, and student groups to identify better ways of preventing waste from happening: sending items to surplus rather than landfill, sorting materials to maximize scrap metal and E-waste recycling, and collecting materials for donation when they cannot be reused or sent to surplus. Cindy demonstrates sustainability on campus through her daily actions in her duties as the Zero Waste Technician. Cindy seeks opportunities every day to divert waste on campus, as well as supporting new initiatives and others' efforts to divert waste.
Erin Foote demonstrates sustainability by bringing compost/food waste disposal to the CP ASI Children's Center, Introduced sustainable farming practices to children and parents at the ASI Children's Center through the development and upkeep of the Garden Committee (true farm to table, all in house), Encourages sustainable practices in classrooms by bringing recycling and food waste disposal to the culinary lab on campus.
Student Sustainability Champion
Winner: Darin Son
For nearly two academic years, Darin has been a valuable member of the Green Campus Team serving in the role of Technical Intern. She is a dynamic, detail-oriented, and proactive young professional. During her time with the Green Campus Team, she has excelled both in technical tasks such as data processing, analysis and visualization and in outreach and student engagement-oriented projects. She took lead in developing one such innovative student engagement project in partnership with University Housing in the area of waste reduction and reuse she called Cal Poly (CP) Thrift. At the end of every year, students moving out of their residence halls and apartments toss away useful items that they do not want to transport or store. The goal of CP Thrift was to make it just as convenient to donate items, as it was to toss them away. The first CP Thrift, executed in Spring and Fall of 2018, was wildly successful by diverting 3280 pounds of goods from the landfill, reducing over 2800 pounds of carbon which is equivalent to preventing nearly 3 barrels of oil from being consumed or from sequestering the carbon of 1.5 acres of forest in a year. In addition, CP Thrift was recognized at the annual ACPA conference for Excellence in Sustainability-Program and Innovation.
Honorable Mentions: Marissa Miller, Dylan Stafforini
Faculty Sustainability Champion
Winner: Peter Schwartz
Nominated by Hunter Francis for his efforts to integrate sustainability into all coursework, and pursuing research and many extracurricular activities (including abroad) that expose students to a wide range of sustainability issues. Even in his personal life at home, Pete has made a commitment to reduce his personal footprint much more than many others do. Perhaps most important, are the vigor and enthusiasm that he brings to the sustainability conversation on campus, and which go beyond mere sustainability "checklists". In addition to addressing technological challenges, Pete makes an effort to incorporate social dimensions, which are often lacking or difficult to tackle in many sustainability frameworks. His drive and creativity are refreshing and inspiring to many.
Honorable Mention: Norm Borin, Rebekah Oulton, Thomas Trice