Recycling and Composting
Recycle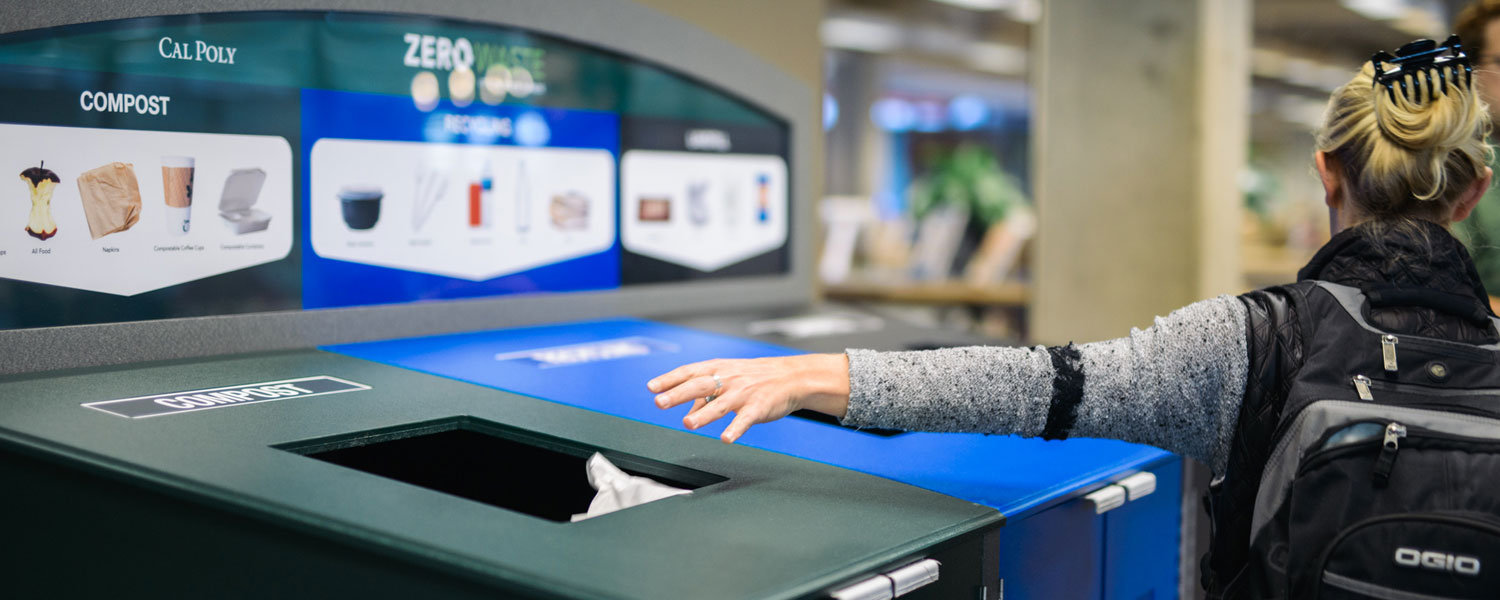 Our Cal Poly recycling stream is "co-mingled," meaning all locally recyclable materials - cardboard and paper as well as plastic narrow-necked bottles, glass & metal containers - can be mixed together in bins labeled "recycling". The collected recyclable materials are sent to the Cold Canyon Materials Recovery Facility (MRF) for sorting & baling. The MRF is located in San Luis Obispo and accepts recyclable materials such as glass bottles, aluminum and metal cans and aluminum and foil, uncoated clean paper products (i.e. cardboard, clean pizza boxes, magazines, and office paper), and narrow-necked plastic bottles. Expanded polystyrene (e.g. Styrofoam) is not recyclable at any SLO county facility. For a more comprehensive list of what is recyclable at Cal Poly and throughout SLO County, visit the Integrated Waste Management Authority (IWMA) website.
Compost
Campus Dining and Facilities Management and Development partner with Engle and Gray (E&G), a licensed facility in Santa Maria, to compost pre-consumer food scraps from Dining and post-consumer compostable items from large events. About 230 tons of food scraps from Campus Dining are composted annually. Compostable items like food-soiled paper plates, napkins and compostable flatware are only collected at Zero waste events where Zero Waste Ambassadors help to keep the compost from contamination. Everywhere else on campus, compostable-ware must be thrown in the trash. Previous attempts to collect compostable paper to send to the Engel and Grey compost facility were too contaminated to send anywhere but landfill. Instead, the campus has opted to pursue a Food-Waste only collection for public locations.
Food Waste to Local Energy
Food scraps are collected at numerous locations throughout campus to send to the new SLO anaerobic digestor run by Hitachi Zozen Inova LLC. Food scrap collection is available in campus student apartments on an opt-in basis to ensure the highest quality & least contamination. Other locations include staff break rooms, Kennedy Library, ASI, Food Processing, the ASI Children's Center, and from other Zero Waste station bins marked "Food Waste Only." The food waste materials are collected by San Luis Garbage and hauled to the anerobic digestor near the SLO airport, where they are conveyed into a giant rotating drum, digested, and the resulting methane captured to run turbines. The remaining materials are composted in static aerated piles for an additional 3 weeks, and the resulting compost is sold to local farms as a soil amendment.
Animal Manure & Green Waste Composting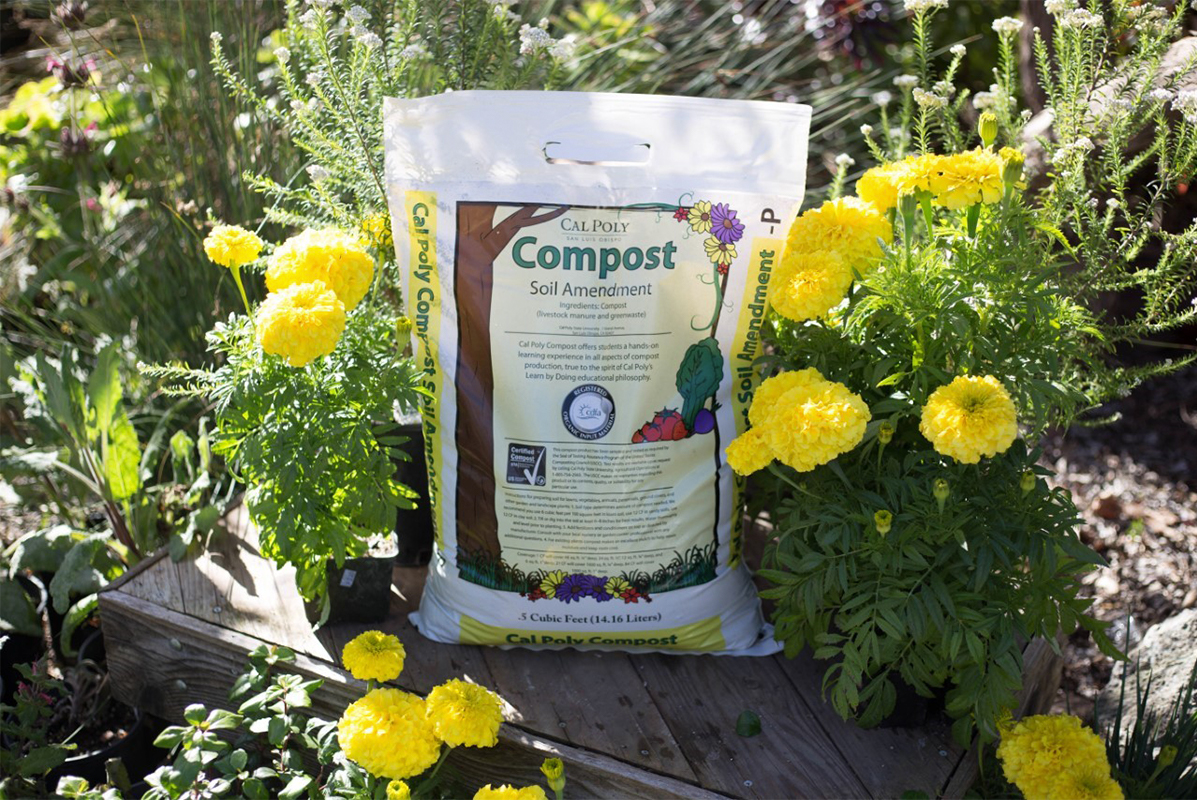 On an annual basis, CAFES animal operations produce approximately seven million pounds of manure. Cal Poly Agriculture Operations performs onsite composting of the manure, along with approximately 2,500 cubic yards of green waste generated from campus landscaping maintenance. The resulting 3,500 cubic yards of finished compost is used on the student-run Organic Farm, campus landscaping, and Cal Poly crops for soil amendment, reducing the need for chemical fertilizer. To find out more about Cal Poly Compost or place an order, call Ag Operations at 805-756-2548.