Energy
Cal Poly tracks numerous metrics regarding progress toward meeting sustainability goals and achieving compliance with various CSU, State, and Federal mandates.
Energy Use Policy for Building Users
Cal Poly operates under Executive Order 987, which is the CSU Policy Statement on Energy Conservation, Sustainable Building Practices, and Physical Plant Management. The Cal Poly policy sets minimum efficiency standards for new construction and renovations, and establishes operating practices intended to insure CSU buildings are used in the most energy efficient and sustainable manner possible while still meeting the programmatic needs of the University. Read the FMD policy on personal heaters, fans, and refrigerators, Energy Star procurment and temperature ranges for buildings here (PDF). The entire text of Executive Order 987 may be viewed at: http://www.calstate.edu/eo/EO-987.html
Total Energy Use per Square Foot
Energy use is the primary metric used by the CSU to track progress toward energy conservation goals. Sometimes referred to as Energy Use Index, this metric represents total annual energy use (electricity and natural gas combined – both purchased and generated on site) per square foot of building space, measured in British Thermal Units per Square Foot, or Btu/sf.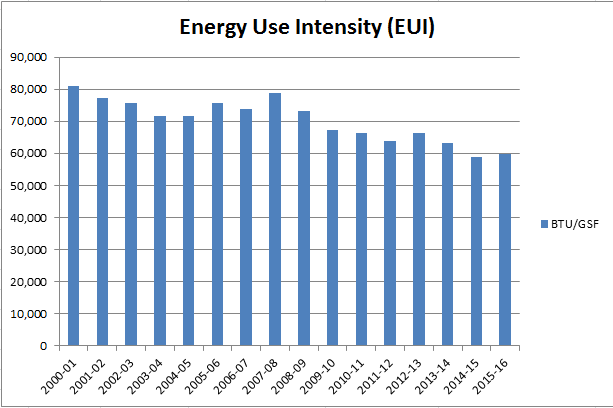 To normalize this metric between different CSU campuses, the square footage is adjusted to prorate or remove buildings and structures that are very low or zero energy users, such as parking structures, stadiums, and farm buildings such as barns and storage sheds.  The last two CSU Executive Orders on energy and sustainability (EO917 in 2004, and EO987 in 2006) established goals to reduce Btu/sf by 15% over two consecutive five year periods. Cal Poly has met or exceeded these goals. To view raw energy tracking data, download the linked XLS file.
Electricity
The majority of electricity use on campus is for lighting and HVAC (Heating, Ventilation, and Air Conditioning).  Cal Poly purchases approximately 92% of its electricity needs from Pacific Gas and Electric Company, and generates the other 8% on site from a combination of solar PV and cogeneration.  Cal Poly has implemented numerous energy conservation projects to reduce electrical usage, including fluorescent lighting retrofits, occupancy sensors, HVAC equipment upgrades, variable frequency drives for pumps and fans, and installation of digital energy management systems.  In spite of the fact that the campus square footage has grown dramatically in recent years, electricity use has remained relatively flat – indicating that conservation efforts have been able to offset growth. Electricity costs have escalated rapidly in recent years due to utility rate increases, more than doubling since 2002. To view raw energy tracking data, download the linked XLS file.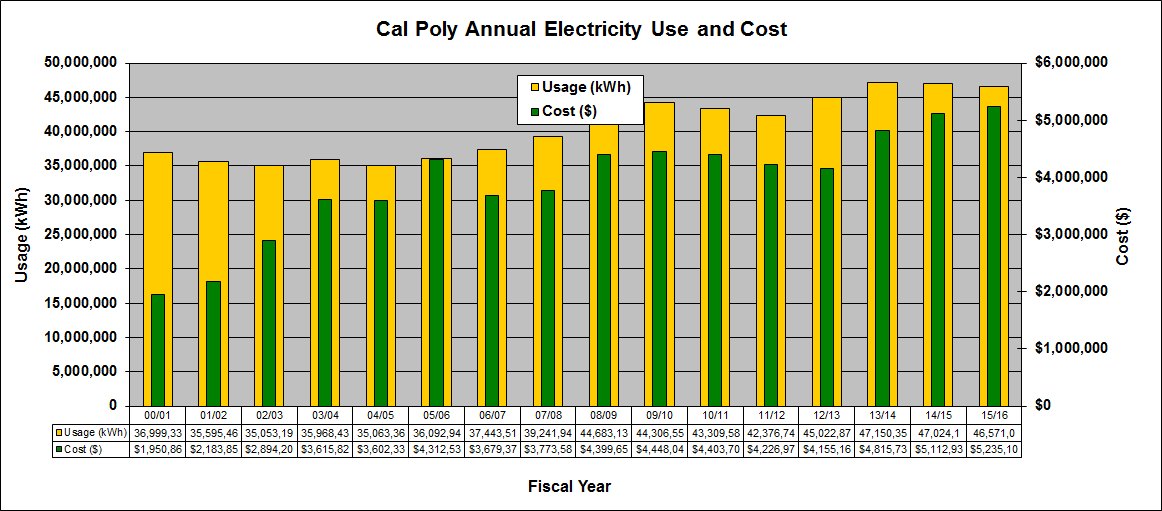 Cal Poly has 26 different electric service accounts – two serving the main campus through the University owned Mustang Substation (representing 98% of all electric purchase), and the remainder serving a variety of remote sites including ranch houses, irrigation wells and pumps, and remote street lights (representing 2% of all electric purchase).  Power is received from PG&E at a transmission level of 70,000 volts, and is transformed at Mustang Substation to either 12,470 volts or 4,160 volts for distribution to campus buildings.  Electrical distribution in the campus core is all underground, while distribution to outlying Ag areas is via overhead lines.  Mustang Substation and all campus distribution systems are owned by the University and maintained by the campus Electric Shop.  Power is purchased from PG&E on the E20T Tariff, which includes separate charges for energy and peak demand, and different time of use periods for peak/part peak/off peak and winter/summer seasons. 
Energy Efficiency
Cal Poly continues to invest in energy efficiency as the most cost effective way to reduce greenhouse gas emissions and operating costs while modernizing aging buildings and infrastructure. Cal Poly also participates in a summer Demand Response program, curtailing up to 1 MW of electrical use during times of peak load on the state grid. Cal Poly was called upon 16 times in the 2015 season, reducing campus load by an average of 720 kW, or 12% of peak demand.
Utilizing a low interest CEC loan and zero interest PG&E On-Bill Finance, Facilities completed a $3.3M energy and water conservation project in 2016 which retrofitted lighting in 25 buildings, converted all chilled water buildings to variable flow, optimized chiller plant operation, and installed new boiler combustion controls. The project resulted in savings of over 2,000,000 kWh of electricity, 47,000 therms of natural gas, and $220,000 in utility costs per year, qualifying for over $300,000 in utility incentives. The project received Sustainability Best Practice Awards in the categories of Innovation (Creative Project Finance) and HVAC Retrofit (Chilled Water Flow Optimization) at the California Higher Education Sustainability Conference.
A Monitoring Based Commissioning project on five buildings was completed in 2016, improving the comfort and efficiency of the HVAC systems in Engineering III, Engineering IV, Bonderson Projects Center, Cotchett Education, and the Business Building. The project resulted in savings of 384,000 kWh of electricity, 28,000 therms of natural gas, $52,000 per year in utility savings, and qualified for $160,000 in utility incentives.
Over summer 2016, nearly 500 street and parking lot lights on campus were retrofit to LED, with motion sensing dimming technology in the parking lots. The project greatly improved the appearance and safety of campus at night, resulting in savings of over 300,000 kWh per year in electricity, and qualified for a utility incentive of $70,000.
To prepare for implementation of an Enterprise Energy Information System which will provide "Big Data" analytics capability to Cal Poly's energy management programs, Cal Poly invested $1,000,000 to modernize its 30 year old Building Automation System, bringing it up to the latest technology and high speed Ethernet communication.
The production and use of water are intimately related to the production and use of energy.  In the State of California, some estimate that as much as 20% of all electrical energy consumed is used for the pumping, treatment and transport of water.  Electrical power generation is the second largest user of water in the United States, second only to agriculture.  As consumers, it is important to understand that conserving energy saves precious water resources, and conserving water reduces energy consumption and subsequent greenhouse gas emissions.
Renewable Energy
In procurement, planning, operations, and research, Cal Poly is committed to leading the transition to a clean energy future.
Solar
In July 2016, Cal Poly released a Request for Proposals for a solar farm to be built by a third party developer under a Power Purchase Agreement. The single axis tracking array, up to 5 MW in capacity, will be sited on 24 acres of Cal Poly sheep pasture bordering Highway 1 and could generate up to 25% of Cal Poly's total electricity needs. The RFP specified sophisticated metering and data collection to support teaching and research in the Electrical Engineering Department's Power Program, as well as Animal Science Department access to continue sheep grazing and perform research on solar farm vegetation management practices.
Using donated equipment, students in BRAE 470 - Solar PV System Engineering - designed and constructed a 5 kW solar array on the roof of the BioResource and Ag Engineering Building. Facilities took an active role in developing course curriculum and system design, and provided a mini-grant worth 5 years of the energy it will produce. Students learned construction and safety fundamentals by participating in a Grid Alternatives installation in a disadvantaged community, then went on to create Cal Poly Project Solar, which received status and funding from Academic Affairs as an Instructionally Related Activity, with a goal to build more systems on campus.
In October 2006, Cal Poly completed a 135 kW solar array on the roof of the Engineering West building – at the time, the largest solar system in San Luis Obispo County.  The system generates approximately 290,000 kWh of electricity per year, enough to power about 26 homes.  It also eliminates some 310,000 lbs of carbon dioxide emissions per year.  The project was delivered as a third party power purchase, in which Cal Poly signed agreements allowing SunEdison to design, build, own and operate a solar system on campus property, while the University agrees to buy all the energy it generates at negotiated fixed rates for a 20 year term.  Compared to power purchased from the grid, this will save Cal Poly approximately $100,000 over the life of the project, and provide a hedge against utility rate escalation.
In December 2008, Cal Poly completed a 2.5 kW solar array on the roof of the Facilities Management and Development building.  This project was funded by a grant from the San Luis Obispo County Air Pollution Control District, and was constructed by REC Solar.  The system generates approximately 4,000 kWh of electricity per year, enough to fully supply six electric vehicles in the Facilities Management and Development fleet, making them completely carbon neutral.
Wind
Feasibility studies are under way to assess the opportunity to develop wind and biomass power generation on campus. Using historical wind speed data from the Cal Poly Wind Research Center on Escuela Ranch, 3D computer modeling was used to assess wind resources across 6,000 acres of campus land. Four potential locations with the best wind speeds are being evaluated for more detailed study. A dairy digester and cogeneration system are also being evaluated for conversion of animal manure, greenwaste, and foodwaste into useful energy.
Waves
Led by former California Senator Sam Blakeslee, Cal Poly's Institute for Advanced Technology and Public Policy received a $750,000 US Department of Energy CalWave grant to assess the feasibility of siting the planned National Wave Energy Test Facility in California.
Biomass
With over 6,000 acres of land near the campus core, diverse agricultural crops and livestock herds, a working dairy, and an active Bioresource and Agricultural Engineering program, Cal Poly has unique resources and opportunities to utilize biomass as an energy source.  A 2008 feasibility study determined that campus livestock herds produce approximately 265,000 cubic feet of manure per year, currently managed by composting and spray field irrigation under Regional Water Quality Board permit.  Campus also annually generates approximately 8,100 gallons of whey (a waste byproduct of the Dairy Products Technology Center), 300 tons of food waste from Campus Dining, and an unknown amount of greenwaste from the crops units and campus landscape operations.  When these materials decompose by normal biological processes, they release methane to the atmosphere.  Methane is a significant greenhouse gas, having 72 times the Global Warming Potential (GWP) of carbon dioxide during the first 20 years after being released to the atmosphere. 
Capturing methane from a digestion process to use as a fuel significantly reduces the greenhouse gas effects of the solid waste stream.  These waste streams could be used as feed stock for a combined heat and power system.  Such a system would use anaerobic digestion or other technology to break down organic waste, producing methane to fuel a generator in the form of a reciprocating engine, fuel cell, or microturbine.  Waste heat would be captured to provide space heating, domestic hot water, or hot water for process use.  The digestion system would be constructed using above ground tanks, allowing the existing Dairy lagoons to be used for storm water control rather than continuous storage, improving Cal Poly's compliance with State waste water and storm water regulations.  Alternately, a digestion process could be used to generate methane that would be injected as pipeline gas into the campus' natural gas distribution system, for consumption at other campus facilities.  Unfortunately, the California State budget crisis has made it impossible to guarantee that animal operations in the College of Ag will remain at their current herd size for 20 years or longer, as would be necessary to make such a system economically viable.  Cal Poly continues to monitor technologies, regulatory requirements, and potential sources of funding for future opportunities.
The Grid
As a PG&E customer, Cal Poly procures some of the cleanest energy in the nation. PG&E's reported 2015 Power Mix shows that 30% came from "qualified renewable" sources (solar, wind, geothermal, biomass, and small hydro). When large hydro and nuclear are factored in, 59% of PG&apm;E's electricity is generated by non-carbon emitting technologies. As of June 2016, PG&E has announced plans to shut down Diablo Canyon Nuclear Power Plant and replace it more cost effectively with energy efficiency, renewables, and energy storage.
Summer Electrical Curtailment Program
Cal Poly is required by CSU Executive Order 987 to participate in a summer electrical demand response program. During periods of unusually high temperatures, the state's electrical grid can run short of supply. When this happens, the California Independent System Operator (Cal ISO) calls utility operators to increase supply by firing up less efficient and higher polluting "peaking plants", while at the same time activating statewide utility demand response programs to reduce consumption.
When Cal Poly is called to curtail load, Facilities Management and Development activates an automated program in the campus' building automation system. This will shut down various air conditioning and ventilation systems that have been identified as non-critical loads.
At the same time, building occupants are requested to voluntarily reduce their electrical consumption. Campus Building Coordinators and Sustainability Mentors are responsible to make sure their department has a plan in place when Cal Poly activates its demand response program. Department plans should identify concrete actions to be taken, and responsible persons assigned. Facilities Management and Development recommends the following:
Turn off unnecessary lights
Shut down non critical computing equipment including printers, copiers, scanners, etc.
Shut down non critical lab equipment
Raise thermostat settings by 3-5 degrees in areas that still have air conditioning
For current status of the California electrical grid, click here.
Natural Gas
The majority of natural gas use on campus is for space heating, production of domestic hot water, cooking, and heating of swimming pools.  Cal Poly has eight separate natural gas service accounts and receives service from the Southern California Gas Company.  Natural gas commodity procurement for the larger service accounts (greater than 250,000 therms per year usage) is provided by the California Department of General Services as part of a managed portfolio including nearly all Cal State University and University of California campuses, California State administrative buildings, California Department of Corrections, and various cities, counties, and school districts.  DGS's Natural Gas Service program monitors the gas commodity market, and manages a gas procurement portfolio with a blend of short term and long term purchases based on market conditions and price and production forecasts.  This procurement strategy typically results in a modest cost savings compared to the open market, while significantly reducing exposure to market fluctuations and volatility.  Natural gas service for the small accounts (less than 250,000 therms per year) is performed entirely by So Cal Gas.  All campus gas distribution systems (beyond the utility owned meter) are maintained by the campus Plumbing Shop.  Cal Poly maintains extensive historical data on natural gas consumption. To view raw energy tracking data download the linked XLS file.
Cogeneration
Cogeneration, or Combined Heat and Power (CHP), is a technology in which a single system and fuel source are used to provide two useful energy outputs at the same time.  Conventional simple cycle utility power plants, such as the Diablo Canyon nuclear power plant, must dispose of their waste heat to the atmosphere, ocean, lakes, or rivers.  These large scale utility power plants typically have total system efficiencies of approximately 35%, meaning that 65% of the energy available in the fuel is wasted, resulting in increased greenhouse gas emissions and other environmental impacts.  Cogeneration systems seek to capture this waste heat and use it for space heating, production of hot water, heating of swimming pools, or other process use.  Cogeneration systems are capable of total system efficiencies of 80% or more, resulting in significant energy cost savings, and reduced greenhouse gas emissions.  Cal Poly has two cogeneration facilities in the Housing areas that provide combined heat and power to student dormitories and apartments.
Sierra Madre Cogen Plant:  The Sierra Madre cogen system, constructed in 1984, is a 350 kW unit driven by a natural gas fired Caterpillar reciprocating engine.  The system has been in operation for 25 years, generating approximately 1,900,000 kWh of electricity per year – enough to power 170 average homes.  It provides electricity for the Sierra Madre dorms and when electricity demands are low, backfeeds power into the campus distribution system for use in other dorm buildings.  The system also provides space heating and domestic hot water for Sierra Madre and Yosemite dorms.
Poly Canyon Village Cogen Plant:  The Poly Canyon Village cogeneration system, completed in 2009, is a 500 kW system comprised of two 250 kW Stowell Distributed Power units, using natural gas fired reciprocating engines manufactured by Man.  This cogen system is expected to produce 1,900,000 kWh of electricity per year – enough to power 170 average homes.  The system also provides space heating, domestic hot water, and heating for a student recreation swimming pool.
Related Content