Waste Management
Cal Poly operates an integrated waste management program that includes source use reduction, recycling, composting of food waste, greenwaste, and manure, resale of scrap metal and surplus equipment, and zero waste event catering.  Cal Poly contracts with San Luis Garbage for collection of solid waste and recycling.  Recycling containers are provided to faculty, staff, and students by Facility Managment and Development, and collection is performed by Custodial Services and the campus Recycling Coordinator. 
Waste Diversion from Landfill
Recycling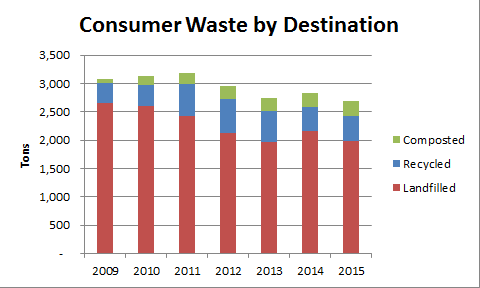 At Cal Poly our recycling stream is "co-mingled," meaning all recycling can be tossed in the blue bins. The recycling collected by Facilities staff across campus is sent to the Cold Canyon Materials Recovery Facility (MRF). The MRF located in San Luis Obispo and accepts recycleables such as; glass, aluminum (cans and foil), and paper products (i.e. cardboard, pizza boxes, magazines, and office paper), and all plastics labeled with numbers 1 through 7, with the exception of 6, polystyrene plastics (i.e. Styrofoam and ubiquitous red cups) that are harder to recycle.
Pre and Post Consumer Food Waste Composting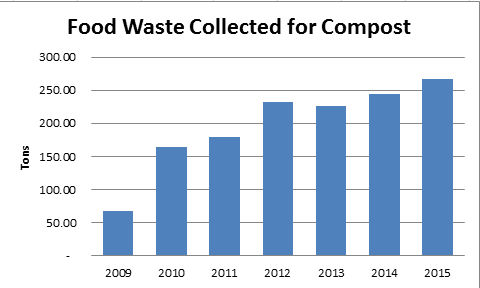 In addition to the animal and green waste composted on campus, Campus Dining and Facilities Management and Development partner with Engle and Gray, a licensed facility in Santa Maria, to compost pre-consumer and post-consumer compostable items. Nearly 300 tons of food waste from Campus Dining is composted annually. To view raw waste tracking data, download the linked XLS file.
Animal and Green Waste Composting
Cal Poly Agriculture Operations performs onsite composting of greenwaste from landscape trimmings and agriculture operations, as well as animal waste from the various livestock units.  The high quality compost is used on the student run Organic Farm, campus landscaping, and Cal Poly crops for soil amendment, reducing the need for chemical fertilizer. On an annual basis, CAFES animal operations produce approximately seven million pounds of manure. The manure along with approximately 2,500 cubic yards of green waste generated from campus landscaping maintenance is combined to produce 3,500 cubic yards of finished compost. To find out more about Cal Poly Compost or place an order, call Ag Operations at 805-756-2548.
What goes in each bin?
Educating our community on which type of waste should go where is critical to becoming Zero Waste at Cal Poly. Follow the steps below when you are throwing something away.
First, ask yourself is it reusable?
Many items can be reused or repurposed instead of being thrown away. For example, refill your drink cup next time you are thirsty or save that subway bag for the next time you get a sandwich!
Then, if you must throw it away, ask yourself:
Is it COMPOST?
Is it RECYCLEABLE?
Send it to LANDFILL?

Styrofoam
Chip Bags
Plastic Bags
Candy Wrappers
Journey to Zero Waste
Cal Poly recognizes that a comprehensive Zero Waste program is fundamental to advancing campus sustainability. Waste reduction is an area of significant opportunity for student engagement and cultural change. The core messages of campus cultural value and personal responsibility are captured in the program's logo and motto: "Cal Poly Zero Waste, It's in your Hands!"
Throughout the years, Cal Poly has excelled in managing waste streams that are under Facilities' direct control. Facilities Management has implemented numerous successful programs to manage the diverse waste streams generated on our campus including animal waste, green waste, pre-consumer food waste, furniture and surplus equipment, construction and demolition waste, and others. These programs have consistently diverted over 50% of waste from landfill.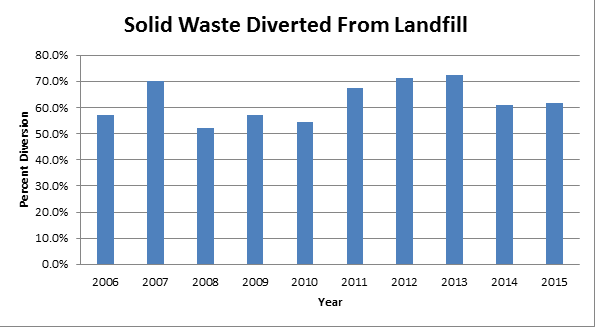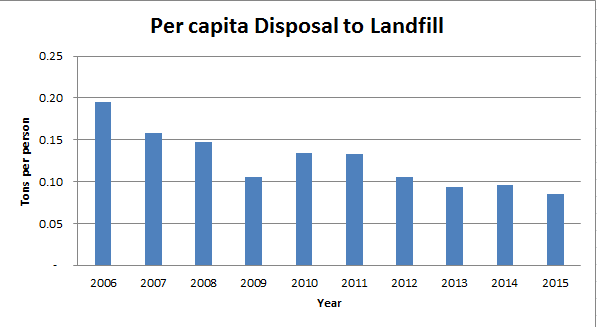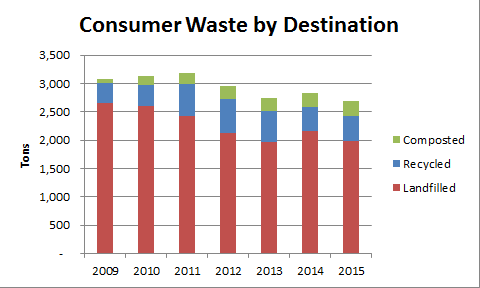 The consumer waste stream - the waste placed in trash or recycle bins by individual faculty, staff, and students on a daily basis - has proven to be much more challenging to improve. For decades, Cal Poly has had a basic consumer waste recycling program which has focused on making recycling bins and collection service available across campus. Unfortunately, this generally passive program has resulted in approximately 80% of consumer waste going to landfill. To view raw waste tracking data, download the linked XLS file.
State mandates, CSU policy, and increased awareness by the campus community leadership have driven a need to develop a comprehensive Zero Waste program with a commitment to flipping the consumer waste diversion rate from 80% landfill to 80% diversion by 2020. In early 2015, operations staff from Facilities, University Housing, ASI, Campus Dining, the Green Campus Program, and Zero Waste Club came together and formed a Zero Waste Collaborative to tackle the problem. To view raw waste tracking data, download the linked XLS file.
Join the Movement!
The Zero Waste Club and Green Campus team are hosting educational outreach activities for peer to peer cultural behavior change. Over the past year, club members worked closely with Facilities and Campus Dining, performing regular waste audits at The Avenue to identify the effectiveness of improved 3D signage created and installed by the Zero Waste Club, as well as tabling at events across campus to educate students. Future initiatives include a Material Reuse Depot on campus and a drive to eliminate single use bottled water and plastic bags from all campus locations. There are many ways that you can participate and support this effort:
Go Zero Waste in your day-to-day activities:
Always ask yourself… does this need to go to the landfill?
When in doubt…Recycle!
Get a reusable water bottle and bring it with you everywhere you go!
Say "No, thanks!" to plastic bags
Bring a set of utensils in your backpack and avoid the plastic ones!
Bring your food in Tupperware, not plastic bags
Avoid products that use unnecessary packaging or containers
Buy products in bulk!
To make an event zero waste:
Request the Zero Waste option from Campus Catering
Use all reusable or compostable utensils, dishes, and cups
Use no individually packaged products (chips, candy bars, sugar, butter, condiments)
Collect all waste in recycling or composting bins provided by Cal Poly event staff
Hazardous Waste
For hazardous waste and materials that require special handling for recycling or disposal, please use the following guidelines.
Batteries may be recycled by placing in an envelope and mailed to the State Warehouse.
Fluorescent Tubes contain mercury and should be delivered to the State Warehouse for proper disposal.
Compact Fluorescent Lamps contain mercury and should be delivered to the State Warehouse for proper disposal.
Ultrex, Cal Poly's photocopier provider, will place a Konica Minolta Clean Planet Box by each machine for all empty toner cartridges – Konica, Dell, HP, Brother, etc. Ultrex will pick up all empty toner cartridges, monthly. However, if the box is getting full before your monthly visit, the end users can contact Ultrex directly by either calling the office at (805) 783-1234 and speaking with Melissa, or emailing Melissa at Melissa@ultrex.net. Ultrex would prefer to pick-up all of the empty cartridges. With the Clean Planet Program that Konica Minolta has operational, all empty cartridges will be recycled rather than ending back up in the landfill.
Asbestos and Lead may only be handled by trained and certified personnel. If you believe asbestos or lead containing materials have been damaged or disturbed, please contact the work control center at 805-756-5555, or contact Environmental Health and Safety at 805-756-6662.
Chemical Waste is handled by the Environmental Health and Safety office.
Surplus Program
To further reduce the quantity of waste deposited in land fill, Cal Poly operates an on line surplus equipment sale program.  The Public Surplus auction site is used to resell surplus equipment such as computers, furniture, lab equipment, light fixtures, tools, vehicles, audio/video equipment, and unclaimed lost and found items.  The program generates approximately $10,000 per month in revenue, which is reinvested in recycling and other sustainability efforts at Cal Poly. Click here to read the Cal Poly Surplus policy.
Related Content