Welcome to
Transportation & Parking Services
Along with a new name, Transportation and Parking Services has launched new initiatives and made changes to current policies for the 2017-18 academic year, including how parking permits are allocated, and where and when you can park. Check out these FAQs to learn more.
In response to student requests, a two-week parking permit will be made available for all resident students (including freshman) for the time between Thanksgiving and Winter break.
Available to purchase online for $70 starting Nov. 20, the permits will allow residents to park in the Village Drive structure (R3) from Nov. 27 through Dec. 8.
We understand that many residents will be travelling twice in two weeks and we want to make these trips more convenient. Freshman, who currently are not allowed to have cars on campus, will be able to bring their car for these two weeks.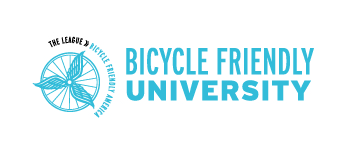 California Polytechnic State University San Luis Obispo is now recognized as a Bronze Level Bicycle Friendly University (BFUSM) by the League of American Bicyclists!
Cal Poly joins a cutting-edge group of 182 colleges and universities across the United States that are transforming the American landscape by providing more bicycle-friendly campuses for the benefit of students, staff, faculty, and community members.