Paying For Metered Parking Using Parkmobile
Cal Poly has launched a mobile payment option on all 324 coin meters on campus.
Parkmobile, a mobile payment solution, makes it easier to park at meters and allows customers to pay for parking with their phone app. There is a $0.35 convenience fee for all parking sessions.
Parkmobile is an added payment option, coin payment will continue to be a valid form of payment.
How to Use Parkmobile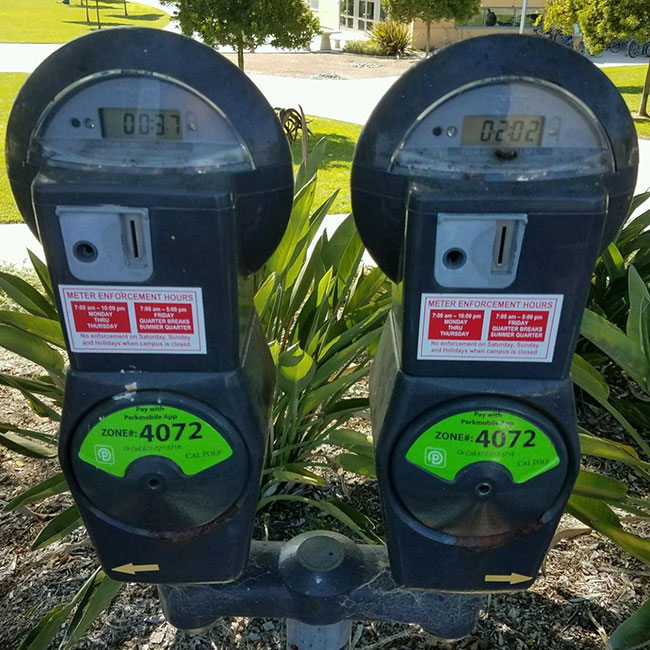 To utilize the Parkmobile service, customers must first download the mobile app or register at parkmobile.com. Upon registering for an account, motorists can immediately start using Parkmobile to pay for parking via its mobile app, website or toll-free number.
Register a vehicle, double checking the license plate number.
Look for the Parkmobile sticker attached to the meter.
Once registered, use the Parkmobile app to enter in the zone number listed on the sticker to start a parking session.
That's it! And just to make life easier, you can opt-in to receive a notification 15 minutes before your parking session is set to expire.
Get the App Now!
Here's a quick video showing how easy it is to use Parkmobile!
Parkmobile iPhone App from Parkmobile on Vimeo.
Parking has never been easier. Using the Parkmobile iPhone app, you can enjoy convenient, cashless parking across the country. www.parkmobile.com