Safety Programs
Improving Personal Safety
Historically, the Cal Poly campus and the City of San Luis Obispo have been safe environments for the campus community. However, incidents affecting personal safety do occur.
The University Police Department recommends visiting the Crime Prevention webpage for personal tips, theft & crime prevention information.
PolyAlert Campus Emergency Notification System
PolyAlert is Cal Poly's Emergency Notification System, and the primary tool for delivering critical emergency information to help ensure the safety of our community. PolyAlert can distribute emergency notifications through email, SMS text, and voice. Cal Poly email addresses are automatically enrolled in the PolyAlert system, but we highly encourage anyone with a Cal Poly Portal account to register their cell phone number to receive emergency alerts via text message, as this will allow community members to rapidly receive any emergency information. Cal Poly students, faculty, staff, and auxiliary employees may register up to two phone numbers with the system on the "Personal Info" tab on your Portal Page.
Escort Van Service
Out of an abundance of caution and care Escort Van services has been suspended until further notice.
Transportation & Parking Services provides a safety escort van service through the Community Service Officer program.
The members of the campus community are encouraged to take steps to insure their own safety by choosing well-lit pathways when walking on campus.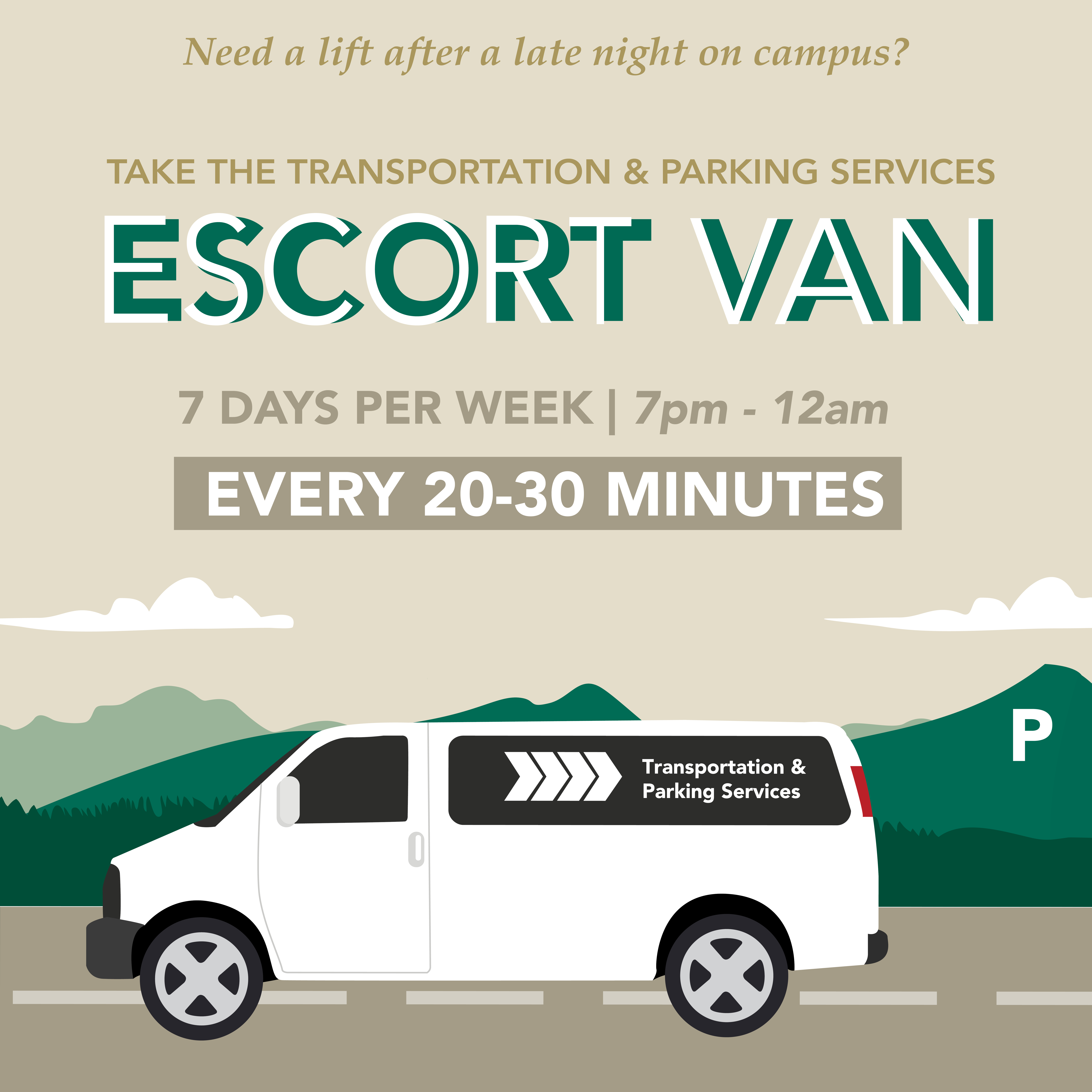 This service provides a ride from designated "on campus" pick-up points to designated "on campus" drop-off locations only.
During the academic year the Escort Van will operate 7:00pm to Midnight 7 days a week, not including Holidays and Breaks. (On Campus Only).
The following link will take you to the flyer with the new routes and pick-up locations.
Property Registration
Out of an abundance of caution and care Property Registration has been suspended until further notice.
Cal Poly Police Department offers a Bicycle & Property registration program. Please follow the link or call 805-756-6654 for more information.
Mustang Patrol
Out of an abundance of caution and care Mustang Patrol has been suspended until further notice.
University Police offers an on campus safety walking escort on Friday and Saturday evenings from 8:00 pm to 2:00 am. Students, faculty, and staff requesting a walking escort on campus can call 805-756-STEP (7837) and Mustang Patrol will walk you to your on-campus destination or to your vehicle parked on campus.