Announcements
Winter Permit Waitlist Open
The waitlist is now open for commuter students to add their name once winter permits are sold out. Our administrative office is closed for the holidays beginning Dec. 22. We will return to normal business hours on Jan. 2. Students on the waitlist will receive communication from Transportation and Parking Services if additional winter quarter permits come available. For step-by-step instructions Click Here
Winter Quarter Parking for Resident Students
Only resident students who already have an Annual Resident Parking Permit should plan on returning to campus with their vehicle for winter quarter. All other resident students should take advantage of the growing number of alternative transportation options available on campus and in the community.
Cal Poly has been working with our neighbors to reduce the traffic and parking impacts in the surrounding neighborhoods and therefore we ask that students not plan on parking on the streets or public areas near campus. We want to be a good neighbor and ask our students to help.
Winter Quarter Orange Permits On Sale 12/11
Commuter students can begin purchasing Winter Quarter Orange Permits at 10 am on Monday, Dec. 11 on a first come, first served basis. Permits will be available to purchase online and a waitlist will be available. To add your name to the waitlist, click the button "Add/Edit Waitlists" from the parking portal main page.
Transportation and Parking Services took feedback from an ASI survey which asked students how they would prefer parking passes to be sold. The survey responses resulted in 47% of students preferring first come, first served over 42% that preferred academic progress.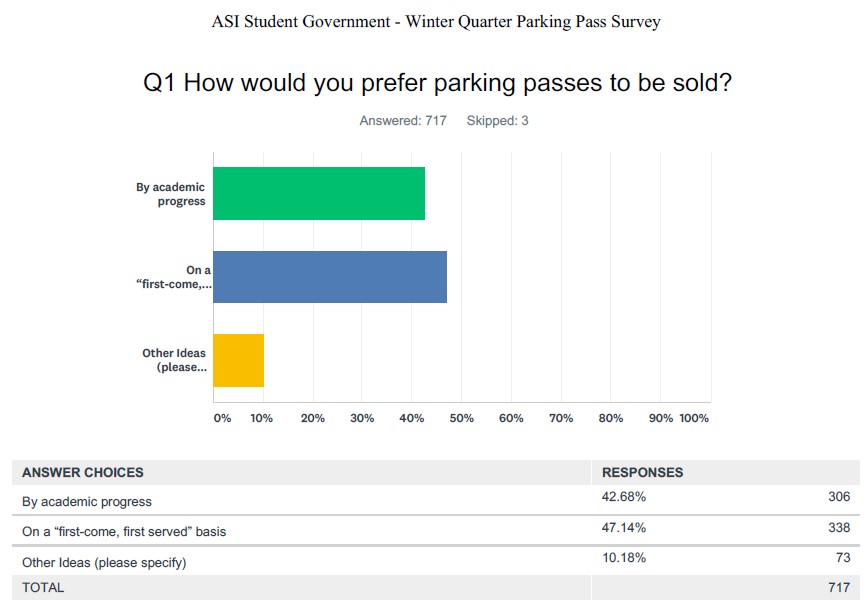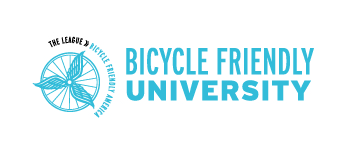 2017 Bicycle Friendly University Award
California Polytechnic State University San Luis Obispo is now recognized as a Bronze Level Bicycle Friendly University (BFUSM) by the League of American Bicyclists!
Cal Poly joins a cutting-edge group of 182 colleges and universities across the United States that are transforming the American landscape by providing more bicycle-friendly campuses for the benefit of students, staff, faculty, and community members.
To see the full list of this year's BFUSM award recipients: Click Here

SLO Transit - Expansion of Service Monday, November 13th
November 13, 2017 - SLO Transit will be expanding the scheduled routes that service the Cal Poly campus. The 3B and 4B routes will now offer extended evening services and the 3A and 3B routes will offer increased service frequency.
Find more information at: SLO Transit
Changes to the Transportation & Parking Services Department
Dear Cal Poly Community:
As the campus grows, so does the demand for parking and alternate transportation methods on campus. In an effort to better serve our community and taking into consideration the true function of the parking operations here at Cal Poly, Parking Services has been rebranded as Transportation and Parking Services.
The Transportation and Parking Services goals are to move the campus forward in an efficient manner while maximizing the utilization of department resources and building stronger relationships with our community to address the current and future demands of the Cal Poly campus.
In response to permit holder request regarding limited parking on campus, Transportation and Parking Services has implemented several changes for the 2017/18 academic year;
First time residential Freshman are restricted from purchasing on-campus parking permits.
Transportation and Parking Services developed the Orange Lots (formerly the H-12, H-14, and H-16 parking lots). These lots are designate for Orange Lot permit holders only; Monday through Friday, 7:00 am to 5:00 pm. (Note: All other types of parking permits will not be honored in the Orange Lots until after 5:00 pm weekdays and all day on weekends and holidays. A limited number of Staff parking spaces are located in the back portion of H-16 near Village Drive.)
General parking spaces are designated in the Grand Avenue parking structure and the K-1/H-1 parking lots. Daily/Weekly permits will only be honored in General parking spaces before 5:00 pm Monday through Friday.
Staff and Orange Lot permits will be honored in all General Lot parking spaces.
The G-2 parking lot is now designate as a short term limited time zone parking lot. Time limited to a maximum of 2 hours. A permit is not need in this lot, however payment through ParkMobile is required at all times.
The PCV Village Drive Structure upper levels will be reserved parking areas for Orange lot permit overflow and events
SLO Transit has worked to improve local bus service to and from the campus and have optimized routes that serve the Cal Poly community. SLO Transit is a quick, easy and free way for current students, staff and faculty to travel to and from campus.
Transportation and Parking Services has revised a number of the Parking Fee Rates and the Parking Rules and Regulations for the 2017/18 academic year.
Transportation and Parking Services is committed and focused on increasing and expanding sustainable alternative transportation options. Our focus and attention is on promoting alternative transportation option as well as a commitment to ensuring a safe and enjoyable parking experience when visiting the Cal Poly campus.
We wish you a very successful academic year!
---
Parking and Commuter Services Launches New, User-Friendly Website
Cal Poly's Parking and Commuter Services department has launched a new website to better inform the campus community. The former parking website has been completely re-designed with the user in mind – providing quick, easy access to information on services, policies and events.
The website has a modern design with intuitive navigation, based on an analysis of site traffic patterns. The new structure helps users quickly find information with "Quick Links" to the most visited areas of the website. The homepage also displays "Closures Today" with regular updates on parking lot closures. A "Parking on Campus" section provides information on parking lots, space types and pay kiosk locations.
The website is a collaboration of Parking and Commuter Services and Cal Poly's Administration and Finance Division (AFD)'s Network and Technology Services. It is the first of many websites that AFD will be revamping to enhance the web experience for the campus community.
---
Parkmobile Allows Mustangs to pay for, extend parking time by phone on campus meters
Thursday, Sept. 22
In its efforts to bring the latest in parking technology to the Cal Poly community, Parking Services now offers pay-by-phone meter parking at all campus meter locations.
To take advantage of pay-by-phone parking, create a free account online at Parkmobile. Once registration is complete, download one of their free apps for iPhone, Android, Windows 7 and Blackberry. The Parkmobile app may also be downloaded onto any tablet.
To start a parking transaction with the app:
Key in the zone number found on the meter sticker or nearby Parkmobile signage in the lot
Enter the space number if applicable
Select the amount of time you wish to park
Touch the start button to confirm the transaction
Users are alerted 15 minutes before time expires so you can extend your parking transaction, where available*, where ever you are. Parkmobile accounts may also be used anywhere the service is offered throughout the country.
Learn more about how to use Parkmobile on an iOS device
Learn more about how to use Parkmobile on an Android device
*Some parking lots or meters may have maximum time limits.