Announcements
May is Bike Month!
Get on your bike, log your trips on iRideshare.org and help Cal Poly beat out other top employers in the county again this year! Register to lead a bikepool (group ride) to campus on Bike to Campus Day, Wednesday May 10th, and Bike to Work Day, Friday, May 19th.
Stop by on your bike to our Bike to Bacon stations on Mustang way to grab some swag, get a bike tune up, and learn about Bolt-About electric bicycle rentals. Grab a cup of coffee and slice of bacon to start your day out right.
Check http://rideshare.org/events/ to learn about all of the bike month activities throughout SLO and the County.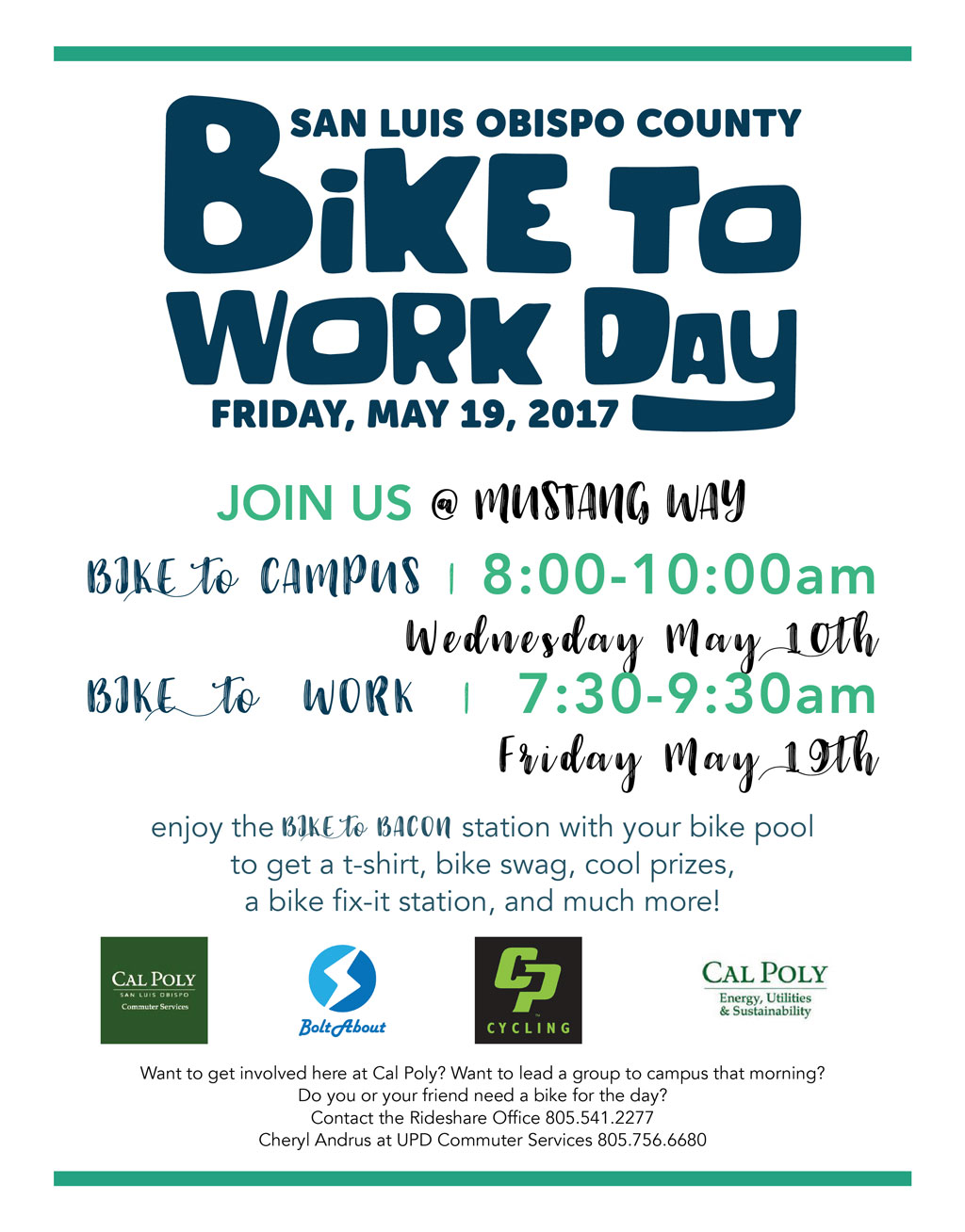 ---
Cal Poly Baseball Season Starts Tuesday March 7th
Cal Poly's baseball season tonight at Baggett Stadium, game time is 6pm. Please expect traffic delays due to event attendees arriving during peak traffic time. Event parking will be available as of 4pm in the H12, H14, H16 parking lots, event parking permits are $10. Please follow directions to event lots.
---
Parking and Commuter Services Launches New, User-Friendly Website
Cal Poly's Parking and Commuter Services department has launched a new website to better inform the campus community. The former parking website has been completely re-designed with the user in mind – providing quick, easy access to information on services, policies and events.
The website has a modern design with intuitive navigation, based on an analysis of site traffic patterns. The new structure helps users quickly find information with "Quick Links" to the most visited areas of the website. The homepage also displays "Closures Today" with regular updates on parking lot closures. A "Parking on Campus" section provides information on parking lots, space types and pay kiosk locations.
The website is a collaboration of Parking and Commuter Services and Cal Poly's Administration and Finance Division (AFD)'s Network and Technology Services. It is the first of many websites that AFD will be revamping to enhance the web experience for the campus community.
---
Parkmobile Allows Mustangs to pay for, extend parking time by phone on campus meters
Thursday, Sept. 22
In its efforts to bring the latest in parking technology to the Cal Poly community, Parking Services now offers pay-by-phone meter parking at all campus meter locations.
To take advantage of pay-by-phone parking, create a free account online at Parkmobile. Once registration is complete, download one of their free apps for iPhone, Android, Windows 7 and Blackberry. The Parkmobile app may also be downloaded onto any tablet.
To start a parking transaction with the app:
Key in the zone number found on the meter sticker or nearby Parkmobile signage in the lot
Enter the space number if applicable
Select the amount of time you wish to park
Touch the start button to confirm the transaction
Users are alerted 15 minutes before time expires so you can extend your parking transaction, where available*, where ever you are. Parkmobile accounts may also be used anywhere the service is offered throughout the country.
Learn more about how to use Parkmobile on an iOS device
Learn more about how to use Parkmobile on an Android device
*Some parking lots or meters may have maximum time limits.