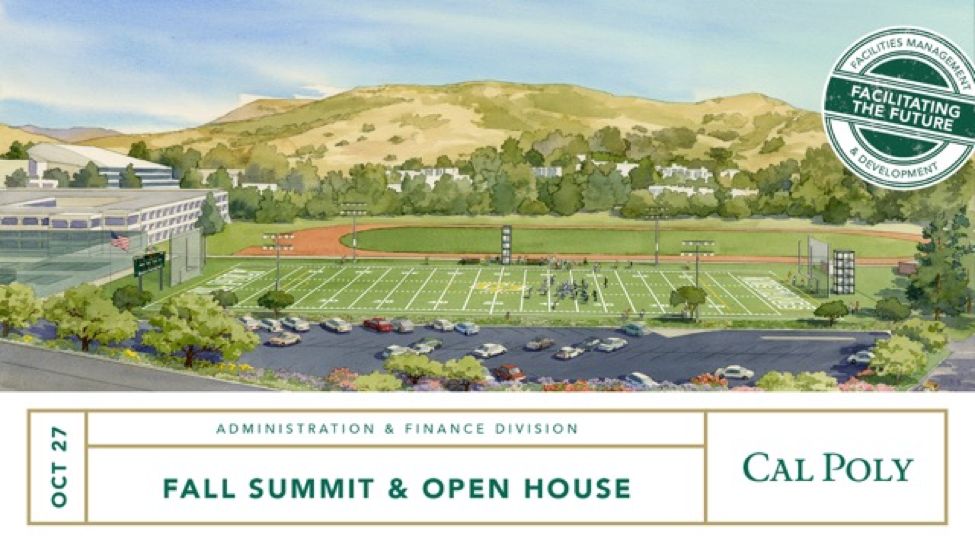 Fall Summit & Open House 2017
Please refer to the agenda and session descriptions (below) prior to registering. We recommend making note of your selections first or having the agenda open for reference as you register. If you have any questions please contact us at 805-756-5555.
Registration is now closed.
AGENDA
8:00 - 9:00 a.m.

Coffee Hour with the Facilities Management & Development Leadership – (Bldg. 70-110)

9:00 - 9:50 a.m.

Hitting The Road - Operating University Vehicles

Rm 70-114

Facilities Management & Development Overview

Rm 70-110

Sustainability Initiatives – Go Cal Poly Green!

Rm 70-109

Lifecycle of a Facilities Project

Rm 70-227

10:00 - 10:50 a.m.

Office Ergonomics: Let's Get Comfortable!

Rm 70-109

Keep it Safe! Information Security & Shredding Services

Rm 70-227

Gassing It Up & Checking The Oil - Fleet Management Services

Rm 70-114

Permits, Furniture, & All That Stuff

Rm 70-110

11:00 - 11:50 a.m.

Learn by Doing Safely - Environmental Health & Safety at Cal Poly

Rm 70-114

Facilities: What's New & Did You Know?

Rm 70-227

Facilitating the Future – New Construction & Maintenance Projects

Rm 70-110

How Do I Do That? - Submitting Requests & Using the Portal

Rm 70-109

12:00 - 1:00 p.m.

Lunch Break

Box Lunch Available - (Bldg. 70-110)
There will be additional seating available outside!

1:00 - 1:50 p.m.

Learn by Doing Safely - Environmental Health & Safety at Cal Poly

Rm 70-110

Facilities Management & Development Overview

Rm 70-114

Sustainability Initiatives – Go Cal Poly Green!

Rm 70-109

Lifecycle of a Facilities Project

Rm 70-227

2:00 - 2:50 p.m.

Hitting The Road - Operating University Vehicles

Rm 70-114

Facilities Financials Lab

Rm 36-105

Gassing It Up & Checking The Oil - Fleet Management Services
CANCELLED

Permits, Furniture, & All That Stuff

Rm 70-110

3:00 - 3:50 p.m.

Office Ergonomics: Let's Get Comfortable!

Rm 70-109

Facilities: What's New & Did You Know?

Rm 70-110

Keep it Safe! Information Security & Shredding Services

Rm 70-227

How Do I Do That? - Submitting Requests & Using the Portal

Rm 70-114
SESSION DESCRIPTIONS
Session Title

Description

Audience

Presenters

Facilitating the Future – New Construction & Maintenance

Join us for an update on current and upcoming construction activity at Cal Poly.

Everyone

Perry Judd

Facilities Financials Lab

Open Lab: Come with your questions!

Facilities expert finance staff will be available to help you with all your questions and challenges. Come share "tips & tricks" with your fellow finance and budget analysts!

Budget Analysts

Lois Johnson

Tina Flack

Carey Blauvelt

Julie Wagner

Jessica Hunter

Facilities Management & Development Overview

This provides a broad overview of all things Facilities related.
Who are we?
FMD Organizational Structure
FMD Responsibilities
Service Request versus a Project
Maintenance versus Chargeback
Timelines
Who to contact?
Where to find additional information or training

Everyone

Jessica Hunter

Facilities: What's New & Did You Know?

Already familiar with Facilities? Want to know more?

Sample Topics;
Personal Comfort Devices (heaters and fans)
Window Coverings & Paint
Occupying a New Space
HVAC Questions & Curtailments
Maps
Efficiency Upgrades

Pest Management

Everyone

Jessica Hunter

Gassing It Up & Checking The Oil - Fleet Management Services

State Vehicle Requirements
Department of Record
Mileage Documentation (Quarterly to DGS, Fuel Tax)
Safety Inspection / Maintenance / Emissions
Daily Inspection and Insurance
Monitoring Use of Vehicles
Vehicle Purchasing / Surplus
Guiding Policies
Services
Fuel (Farm Shop, Transportation, and Propane)
How to Complete a Service Request / Estimates / Scheduling
Campus Services (Rental Contracts / Perry and Villa's / Carwash / Towing)
Contacts
Risk Management
Accident Reporting
Driver Training
Driving Policies / Requirements

Anyone who owns, operates, rents, or is responsible to oversee department owned vehicles

Scott Loosley

Jim Cullins

Laura McCarren

Hitting The Road - Operating University Vehicles

Do you operate vehicles on state business? Do you complete the required paperwork for new and continuing drivers? Do you supervise or operate drivers operating state vehicles? This session will cover what's required for drivers BEFORE they drive including the new electronic workflow for submitting forms.

Drivers, Supervisors, Admin Staff, and Managers

Cindy Most

Vivian Longacre

How Do I Do That? - Submitting Requests & Using the Portal

Demonstration and overview of process to submit a Service Request to the Facilities Management & Development Help Center, common forms and procedures, tips and tricks, and more!
Demonstration and overview of the Facilities Project Portlet in the my.calpoly portal, including how to set it up, what information it provides, and how to use it to track the progress of your project.

Everyone

Wendy Macdonald

Cindy Most

Keep it Safe! Information Security & Shredding Services

Facilities - Secure shredding services provided by Facilities Operations.

ITS - Campus policy on handling and storage of confidential documents including how to determine level 1 versus level 2 data.

Everyone

Jessica Hunter & Cindy Most – Facilities Mgmt. & Dev.

Douglas Lomsdalen & Kyle Gustafson - ITS

Learn by Doing Safely - Environmental Health & Safety at Cal Poly

This presentation will provide an overview of responsibilities and services provided by the office of Environmental Health & Safety.


Tom Featherstone- Chemical Hygiene Officer and campus hazardous waste manager, will give you an overview of hazardous waste on campus.
Kim Porter- Environmental Quality Specialist for the campus will provide an overview of the campus' stormwater pollution prevention program and what you can do to improve water quality.
Kathryn Villarreal- Worker's Compensation Analyst, will give you information on what to do if you are injured while working.
Vivian Longacre- Safety Training Specialist, will answer those burning questions on Driver Safety, Ergonomics, Skillsoft and other training on campus.

Everyone

Tom Featherstone

Kim Porter

Kathryn Villarreal

Vivian Longacre

Tim Hastings

Jensen Acquino

Lifecycle of a Facilities Project

When do I need a project manager?
Why do I need a project manager?
What services will a project manager provide me?


This class will provide users with a complete understanding of the steps required to request and complete projects. We will help you understand requirements to deliver projects on campus. Clients will leave this session with an understanding of how to ensure a successful project including what approvals are needed, how to plan for budgets and schedule, and determine scope.

Everyone

Jeff Dillon

Wendy Macdonald

Office Ergonomics: Let's Get Comfortable!

Are you wondering how to correctly adjust your office so you can be more comfortable?
Are you feeling discomfort at your workstation?
What is the latest on the sit/stand desk? Participants will learn the components of a Healthy Workstation:
How to properly adjust your chair, monitor, and keyboard and desk space
Common risk factors for discomfort and how to make appropriate adjustments to gain comfort and avoid injury
Sit/stand desks: designs and use

Everyone

Vivian Longacre

Permits, Furniture, & All That Stuff

General understanding of the reasons a permit is required and the permit process.
Events
Furniture
Accessibility
Signage
Installations

Everyone

Wendy Macdonald

Sustainability Initiatives – Go Cal Poly Green!

Overview of the following:
Campus Sustainability Goals and Policies
President's Climate Leadership Commitment
Water Efficiency and conservation
Clean Energy, Efficiency, and Conservation
Sustainability and Social/Environmental Justice
Zero Waste, in conjunction with events planning and custodial needs to include procurement, etc.

Everyone

Kylee Singh
Contact Us
Jessica Hunter // 805-756-7568 // jhunter@calpoly.edu
Amy Ray // 805-756-5315 // aray03@calpoly.edu