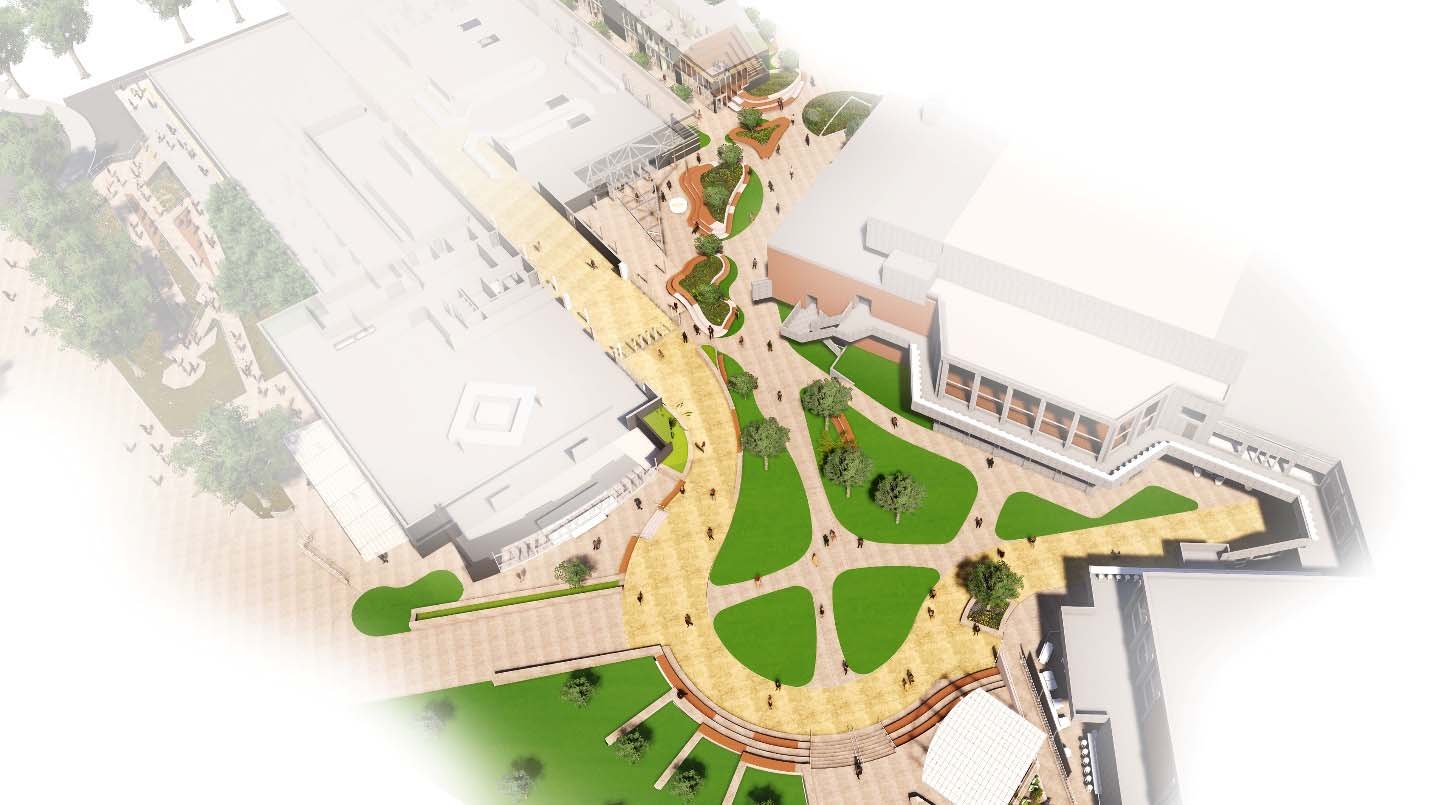 University Union Neighborhood Projects
The University Union Neighborhood is a multi-phased renovation of the existing Union (building 65), Dining Commons (Building 19) and exterior Plaza spaces. The Master Plan from which these projects grew seeks to transform the existing buildings, inclusive of outdoor areas, into a "Union Neighborhood" based on a diverse downtown atmosphere.
Starting in Summer 2019, Associated Students, Inc (ASI) in collaboration with Cal Poly Corporation updated The Alley and Mustang Station Patio to provide more comfortable and vibrant outdoor space for students to lounge, study, and dine. Improvements include lighting, heating for year-round usage, a fireplace, outdoor TVs, and additional seating areas and furniture.
In Early 2021 a major renovation to Building 19 will commence. This project reprograms and renovates Level 2 Dining with new seating, student areas, and dining venues to better accommodate the changing trends in dining and culinary offerings. The project includes replacing aging infrastructure and providing technology improvements to support the dining transformation. Existing restrooms will be reconfigured to current codes and gender neutral restrooms are added as part of the project.
The major organizing element to Building 19 is a central market corridor space filled with open seating, food stands, and vendors. This element is created by raising a portion of the Building 19 roof and adding natural light through new clerestory windows. The project also provides for Building 19A to be fully separated from Building 19 and transformed into multi-use spaces called The Forum and The Pavilion. The Forum will house fixed tiered seating with screen projection capabilities for assembly gatherings and The Pavilion will be a large adaptable open space for student use, with infrastructure installed for future technology such as projector screens and video walls.
ASI will be executing a handful of small projects in order to upgrade to some newer systems within the building, specifically Chumash, as well as complete long desired projects integral to the University Union. These projects will be constructed over the coming months, with expected completion in Spring Quarter 2021.
Within Chumash Auditorium, improvements will be made to improve the AV system with new equipment, refinish existing wood floors, install state-of-the-art operable partitions to allow for sectionalizing of the auditorium, and add a fresh face to the front of the stage. In the back-of-house area, the existing catering kitchen will undergo a makeover consisting of new floor, wall, and ceiling finishes.
As a means of improving the feel and flow in the lobby outside of Chumash, we plan to construct a new check-in counter, and install attractive signage.
The men's restroom across from Starbuck's on the first floor of the UU will be converted to a gender neutral restroom. These changes include relocation and addition of fixtures, with new partitions to improve privacy. New paint, tile, and ceiling finishes are also planned.
As part of a long-term initiative to allow for greater programming flexibility in the UU, ASI entered into an agreement with the State Fire Marshal to install fire sprinklers in the building over a phased, five year period. As a part of the above work, two phases will be completed; in Chumash/surrounding areas, as well as in the bookstore which is undergoing its own renovations.
For more information on ASI projects please visit their project news page http://www.asi.calpoly.edu/projects