Inclusive Restroom Program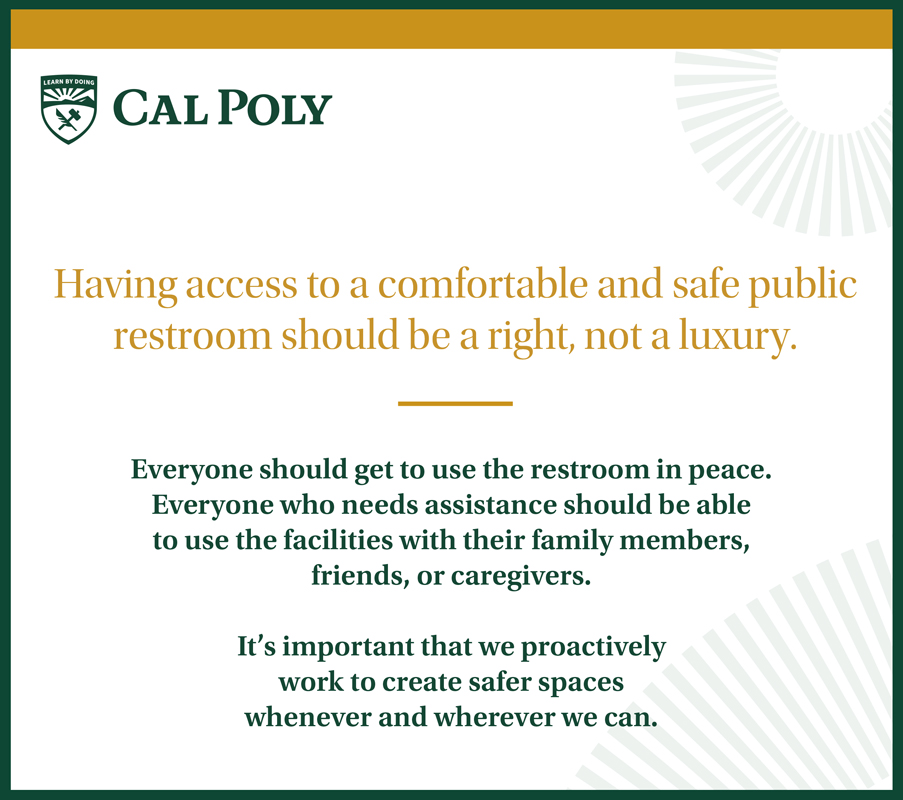 Cal Poly is committed to ensuring that everyone on campus has access to safe and inclusive restrooms. We acknowledge that gendered restrooms (i.e., restrooms labeled "women's" or "men's") can exacerbate stress, discomfort, and lack of safety for people who are transgender, nonbinary, and/or gender non-conforming.
For some history, when AB1732 was passed in 2017, the university renovated all single-occupant restrooms to All Gender. In September 2022, California Governor Newsom signed Senate Bill 1194 Public Restrooms: Building Standards (SB 1194 – Allen) into law. SB 1194 allows for multi-stall All Gender bathrooms in cities that choose to pass such an ordinance.
Student activism in the 2022-2023 school year alerted Cal Poly to the need for more All Gender restrooms across campus. Based on a public listening session held in January of 2023, participants agreed to move forward with a plan that increased the accessibility of All Gender restrooms on campus.
To move this initiative forward with different perspectives and experiences, the Inclusive Restroom Committee was formed. The Inclusive Restroom Committee is co-chaired by Joy Pedersen, Dean of Students and Michelle Chariton, Associate Director of Capital Projects, and includes students, staff, and faculty (see chart below for participant names). The Inclusive Restroom Committee met regularly from March – June 2023 to identify 15 additional existing multi-stall restrooms that will undergo signage changes to become All Gender restrooms.
If interested, please take the survey below to share your feedback on this program. We encourage responses from transgender, nonbinary, gender non-conforming, and/or disabled people. Individual survey responses will remain anonymous and will be accessible only by members of the Inclusive Restroom Committee, with the purpose of designing and executing a plan for more accessible and inclusive restrooms on campus. Broader themes that arise from survey results may be shared with campus partners working towards creating a more inclusive campus climate.
For additional education and resources, please visit https://sogie.calpoly.edu/education.
Inclusive Restroom Committee

Name

Pronouns

Department

Joy Pedersen
she/her
Dean of Students
Michelle Chariton
she/they
Pride Faculty Staff Association /
Facilities Management & Development
Beya Makekau
Office of University Diversity and Inclusion
Jill Baxter
she/her
Facilities Managment & Development
Cat Placencia
she/her
University Housing
Agustin Badillo
they/them/theirs
Pride Center
Cheryl Flores
Native American & Indigenous Cultural Center
Alexia Arani
she/they
Faculty, Women's Gender, and Queer Studies
Jennifer Kearny Bates
she/her
Faculty, English
Cristian Reyes
he/him/'el
Undergraduate student, College of Liberal Arts
Georgia Alley
Undergraduate student, College of Architecture & Environmental Design
Elias Cate
Undergraduate student, College of Liberal Arts
Kevin Kerr
Undergraduate student, College of Liberal Arts
Ryan Carter
they/them
Undergraduate student, Liberal Arts and Engineering Studies
Mikala Purugganan
she/her
Undergraduate student, BioResource & Agricultural Engineering
Ashley Rios
Undergraduate student, Orfalea College of Business
Ricky
Undergraduate student, College of Agriculture, Food, and Environmental Sciences
Megan Massey
she/her
Staff/ Pride Faculty Staff Association
For more resources related to diversity and inclusion in University Housing, please click here.
Restroom Locations
All Gender Multi-Stall Restrooms

Buildings

Rooms

Administration Building 1
103
203A
Cotchett Education Building 2
119
128
Business Building 3
115
116
Aero Hangar Building 4A
102
Architecture & Environmental Design Building 5
208
227
Graphic Arts Building 26
117
119
Clyde P. Fisher Science Hall Building 33
234
H. P. Davidson Music Center Building 45
109
Environmental Horticultural Science Building 48
48Q
Crandall Gymnasium Building 60
106
EHS - New Library Service Building 80
108A
108B
Chase Hall Building 115
107
210
Student Services Building 124
221
Warren J. Baker Center for Science and Mathematics Building 180
103
104
William and Linda Frost Center for Research and Innovation Building 181
108
109

All Gender Single-Stall Restrooms
Questions?
Facilities Management & Development Help Center