Solid Waste and Recycling
Cal Poly contracts for collection of solid waste and recycling. Cal Poly Facility Services operates an integrated waste management program that includes source use reduction, recycling, greenwaste, resale of scrap metal and surplus equipment, and zero waste event catering.
Recycling
Recycling containers are provided to faculty, staff, and students by Facility Services, and collection is performed by Custodial Services and the campus Recycling Coordinator.  For questions regarding recycling or to request additional containers, please contact the Recycling Coordinator at 805-458-2602, or email facilities-cbs@calpoly.edu. 
What items and materials can be recycled?
These items CAN be recycled:
Most paper, including:
Cardboard
Envelopes (even with windows)
Junk mail
Magazines
Newsprint
Stapled Paper
Most Plastics (except Styrofoam #6)
All empty beverage containers
Glass, plastic & aluminum
These items can NOT be recycled:
Aerosol cans
Ceramic materials
Food
Hazardous material
Kleenex
Light bulbs
Paper cups
Paper towels
Squeezable paper juice containers
Styrofoam cups and plates
Wax paper
Universal Waste
The following universal wastes and materials require special handling for recycling or disposal, please use the guidelines below.
Batteries may be recycled by delivering to the Facilities Services Warehouse. For a small number of batteries, inter-office mail is ok.
Fluorescent Tubes contain mercury and should be delivered to the Facilities Services Warehouse for proper disposal.
Compact Fluorescent Lamps contain mercury and should be delivered to the Facilities Services Warehouse for proper disposal.
Used Toner Cartridges are recycled by Staples. All toner cartridges should be given to the Staples delivery driver upon a department's next Staples order delivery, regardless of whether the toner was purchased through Staples.
Ink jet cartridges are common recycling
Hazardous Waste
Asbestos and Lead may only be handled by trained and certified personnel. If you believe asbestos or lead containing materials have been damaged or disturbed, please contact the Facilities Help Center at 805-756-5555, or contact Environmental Health and Safety at 805-756-6662.
Confidential Shredding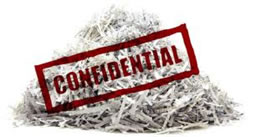 The risk of sensitive information falling into the wrong hands is a continuous threat to the confidentiality, and integrity of Cal Poly information assets. Cal Poly employees are responsible for properly handling confidential data as described in the Information Classification and Handling Standard. The Record Retention and Disposition Standard can assist you to determine the period of time that a record/information shall be kept to ensure compliance with legal and regulatory requirements. The following recommendations are to help you keep Cal Poly data secure through the disposition process:
The following recommendations are to help you keep Cal Poly data secure through the disposition process:
Shred confidential information when it is no longer needed.
Do not discard confidential data in the trash.
Keep sensitive recyclable data separate, secure, and identified as confidential.
Use a clearly marked, locking bin for central departmental storage of confidential information that will be shredded outside the department.
Containers should be kept in a secure, non-public area.
What if your department doesn't have a shredder or centralized area?
Contact Facility Services' recycling division at 805-756-5226 or 458-2602 to request a confidential shred pick up.
Write confidential on the container holding the contents to be shred and tape the container closed. Each container should be 20 X 16 X 12 inches or smaller and should not exceed 40lbs. The common copy paper box is recommended.
Store the confidential container in a secure, locked area until released to Facility Services' personnel. A signature will be requested to ensure chain-of-custody requirements are met.
Please do not include 3-ring binders with the documents, they cannot be shredded.
REMEMBER: Identity theft is on the rise, so it is important to treat other people's information as if it was your own.