William and Linda Frost Center for Research and Innovation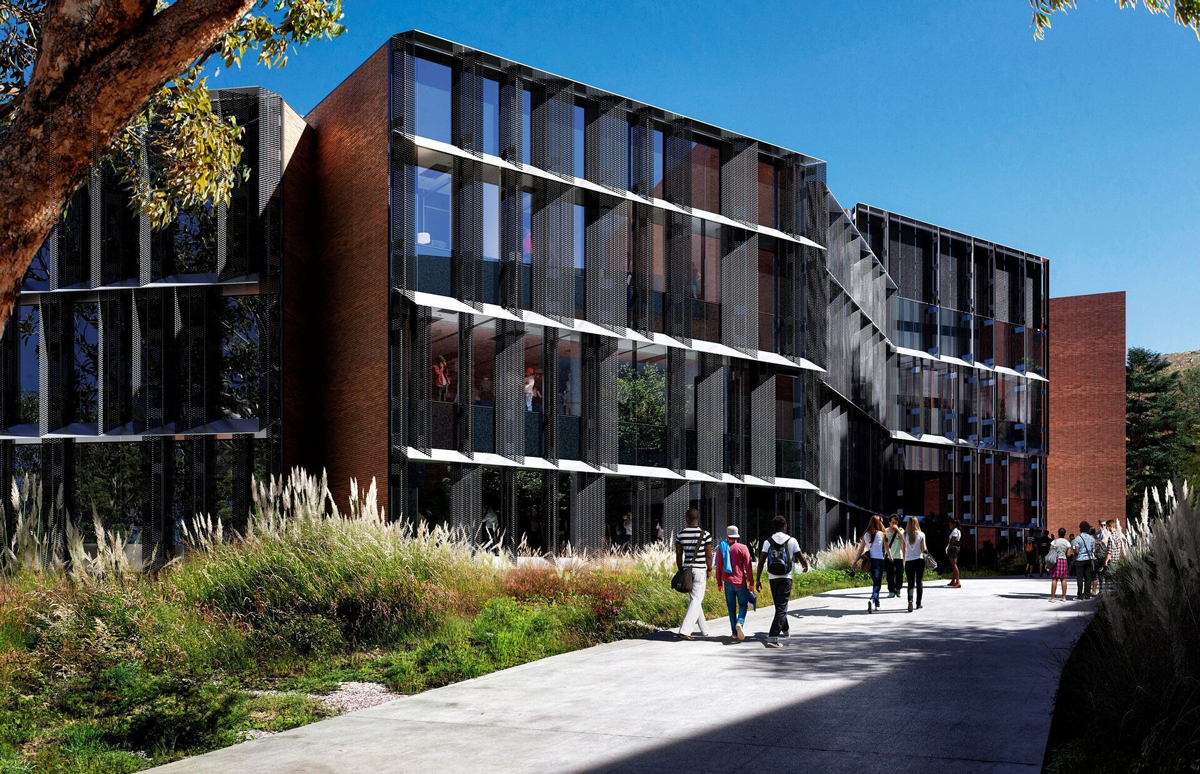 Project Summary:

This new facility will support the educational priorities of the campus including the latest learning pedagogies, state of the art flexible faculty/student research space, student collaboration spaces, faculty and staff offices, conference rooms and general classrooms. The program will include space for the College of Science and Mathematics, the College of Agriculture, Food and Environmental Sciences, the College of Liberal Arts and general University Classrooms and Teaching.

Passive design strategies and natural ventilation ensure the building will be as healthy as possible for occupants. One hundred percent outside air from air handling units and operable windows in offices allow the building to avoid the recirculation of air that might provide an avenue for airborne pathogen exposure. Designed to achieve LEED Gold® certification, the building will consume 30% less potable water than current California efficiency standards and have capacity to accommodate future rooftop solar panels. To make the atrium space the most inspiring, inviting space on campus, rigorous coordination was done during design and construction to remove all distractions from the atrium, such as visible mechanical ducts or diffusers, sprinkler pipes, electrical conduits, etc.Source: ZGF.com

Other features to note:

The building features flexible study spaces adjacent to the second, third, and fourth floor laboratories. These lunch, study, and storage areas are reserved for students using the labs and offer them a space to store personal items, eat (outside of the lab space), and collaborate with faculty and fellow students.
Upon entering egress stairwells 2 and 3, occupants must exit from the second floor. This is a safety feature. These two egress stairwells connect floors that require access control due to the controlled environment needed for research. When entering egress stairwell 1, occupants can access the second, third and fourth floor without having to go to the bottom of the stairs.
The building has a service elevator accessible to faculty to transport chemicals. Training in operating the elevator for chemical transport is required and can be arranged through each department.
Facilities Custodial Services maintains the common areas and faculty office areas. For more information about frequencies, please visit the website.
As described above, faculty offices feature a cooling fan and window shade in lieu of individual air conditioning units.
Designed to create a diversity of environments, the building features spaces for students to gather and study in different microclimates, both indoors and outside. Check out the living rooftop garden and beautiful enclosed patio for additional study spaces.

Stage of Development:

Completed



Location:

William and Linda Frost Center

Project Budget:

$133 million

Timeline:

Planning: January 2017
Design: December 2018
Construction: May 2019 - May 2022
Occupancy (Temporarily Certificate of Occupancy): November 2022 - April 2022
Acceptance (NOC): January 2023

Delivery Method:

Construction Management At-Risk - Gilbane

FPCP Project Manager:

Carla Brown
Dan Swingley

Client:

College of Science and Mathematics
College of Agriculture, Food and Environmental Sciences
College of Liberal Arts
University Scheduling
Frost Foundation

Donor:

William and Linda Frost
Jim and Suzanne Boswell
Jack and Felisha Cashin

Architect:

ZGF Architects



Contractor:

Gilbane

Leadership in Energy and Environment Design or (LEED): Gold

is an internationally recognized certification system to assure, by third-party verification, that a structure meets standards in range of key performance areas, from energy savings and water efficiency to CO2 emissions reduction and indoor environmental quality. Projects earn one of four levels of LEED certification - certified, silver, gold or platinum - based on a point-based rating system.

For more information, click here.