Vehicles
Vehicle purchases require the involvement of your assigned Procurement Specialist, Fleet Services, and other campus areas. Review the How To Buy instructions below prior to any vehicle purchase.
Before You Buy
Before you buy – consider this; you have a responsibility to help Cal Poly meet our CSU fleet vehicle mandates and sustainability goals
Vehicle types can be varied. Please review the chart below for examples.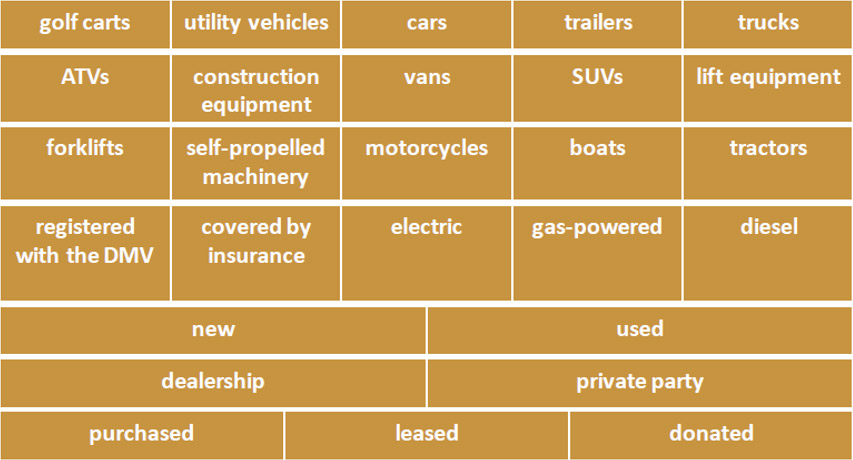 Note: Donated vehicles require many of the steps detailed below for approvals, insurance, and property accounting. Do not commit to receive a donated vehicle on behalf of Cal Poly without these same approvals and steps.
How To Buy
Competitive Bid Requirements
Two to three vendor quotes usually required
Procurement process
Complete an initial needs assessment with Fleet Services. Discuss make, model, color, use, options, accessories, and total cost of ownership.
Explore vehicle parking options with Transportation & Parking Services.
Discuss electric charging needs with Facilities for a new electric vehicle, if applicable.

Request a Building Permit to ensure your electric vehicle is officially approved for that location. Provide the approved permit to your Procurement Specialist via requisition or email.
Make a Facilities Service Request if a new electric charging station is necessary, to check on feasibility and to complete installation (charges may apply).

Decide how you want to approach the quoting process for the vehicle:

Option A - Departments can solicit 2-3 suppliers to provide quotes. See list below for preferred vehicle suppliers. Review quotes and select the solution that best fits your needs. Your assigned Procurement Specialist will review.
Option B - Your assigned Procurement Specialist will handle the quoting for you.

Complete a Vehicle Purchase Justification Form. Include this form with your requisition.
Enter a Requisition in PeopleSoft. Attach the Vehicle Purchase Justification Form, and, if applicable, the approved Building Permit from Facilities.

If using Option A above - include all quotes obtained in the requisition, and specify your requested supplier.
If using Option B above- provide desired vehicle specifications (make, model, options, accessories, performance requirements), timeline, and top budgeted amount in a "No Vendor" requisition for your assigned Procurement Specialist to quote.

Budget approve the requisition.
Keep your Procurement Specialist apprised of the parking and charging plans for the vehicle as they are finalized. If you haven't already provided it, email the approved Building Permit to your Procurement Specialist once received from Facilities.
Your Procurement Specialist will:

review your request
oversee the procurement process
make the final selection
ensure there are parking and charging plans for the vehicle
request the required official approvals
send the purchase order to the supplier

Vehicles are delivered directly to Fleet Services for the official check-in and inspection process
Fleet Services will:

register the vehicle with the DMV, if applicable
work with Property Accounting to create the vehicle ID, officially add it to the fleet, and record it as state property
coordinate the application of the Cal Poly logo and all vehicle identification tags
work with Property Accounting and Surplus to remove the old vehicle from the Cal Poly fleet, if it was a replacement vehicle
deliver the vehicle to the department

Notify Distribution Services of receipt of the vehicle on the purchase order.
If this vehicle will replace another vehicle, initiate the Property Survey Request Form for the old vehicle for disposal/surplus.
Vehicles receive liability insurance coverage once officially added to the fleet. Auto Physical Damage coverage will be mandatory for new vehicle purchases over $35,000 starting January 2023. Departments will be responsible for paying the premiums. Your Procurement Specialist will facilitate obtaining a quote for this coverage through Risk Management.
After the vehicle is delivered, submit the supplier's invoice with your Budget Approver's signature and the purchase order number by email to sbs-payment@calpoly.edu
Payment
Purchase Order
Contact your assigned Procurement Specialist
Preferred Suppliers
Vehicle Suppliers
Cart Suppliers